Gaza conflict: Israel and Hamas 'agree ceasefire'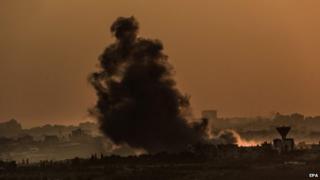 A 72-hour truce between Israel and Palestinian groups in Gaza is due to come into force shortly.
The ceasefire, brokered by Egyptian mediators late on Monday, will start at 08:00 local time (05:00 GMT).
Meanwhile, Israeli media reports quote military sources as saying they have achieved the main aim of the conflict - to destroy militants' tunnels.
Gaza officials say the four-week conflict has killed 1,800 Palestinians. Some 67 Israelis have also died.
A Thai national working in Israel was also killed.
'Without preconditions'
There have been several truces called during the conflict but few have lasted, with each side accusing the other of violations.
The latest was discussed on Monday by various Palestinian groups in Cairo, although Israel did not attend.
But all sides said they would respect the ceasefire.
Later, Reuters news agency reported several Israeli broadcasters as claiming that Israel's main war aim of destroying tunnels used by militants had been achieved.
Reuters also reported that Israel would withdraw all of its troops before the start of the ceasefire.
The claims have not yet been confirmed.
Egypt negotiated a similar truce earlier in the conflict that was accepted by Israel but rejected by Hamas.
The new agreement proposes that delegations from all sides then attend further talks in Cairo.
The main Palestinian demands remain on the table, notably a full Israeli troop withdrawal from Gaza, the end of the blockade of the territory and the opening of border crossings.
US Deputy National Security Adviser Tony Blinken welcomed the ceasefire but told CNN that it was up to Hamas to maintain the truce.
"This is a real opportunity. We strongly support the initiative," he said.
UN Secretary General Ban Ki-moon has also welcomed the ceasefire, and he called on both sides to hold talks in Egypt to begin as soon as possible.
Meanwhile, in Washington, President Barack Obama approved legislation to provide a further $225m to help Israel run its "Iron Dome" anti-missile shield.
The BBC's Mark Lowen, in Cairo, says that news of the latest ceasefire came against expectations as there was little optimism in Egypt that any deal could be struck.
Our correspondent says there are many pitfalls before any long-standing agreement can be thrashed out.
Israeli Prime Minister Benjamin Netanyahu said again on Monday that Israel's main goal was to "return quiet and security to the citizens of Israel".
Speaking after a seven-hour truce ended on Monday, he also said that the military operation would not end until all tunnels used by militants to infiltrate Israel were destroyed.
Israel launched Operation Protective Edge on 8 July with the stated aim of ending rocket attacks.
Jerusalem attacks
Israel's seven-hour "window" generally slowed the violence on Monday, although Palestinian officials said Israel broke it shortly after it began by hitting a house in Gaza City.
A young girl was killed and at least 15 other people injured, many of them women and children.
Israel said a number of rockets were fired from Gaza during the window.
And in Jerusalem, a construction vehicle driven by a man, identified by police as a Palestinian from east Jerusalem, overturned a bus in an ultra-Orthodox neighbourhood.
A passer-by was killed and several people were injured before police shot dead the driver.
Later a soldier was seriously injured in a suspected drive-by shooting in Jerusalem's Mt Scopus area.