Syria conflict: France to speed up arms for Lebanon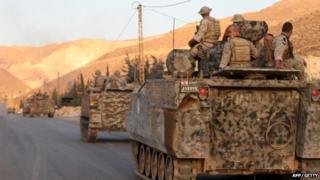 France says that it is to speed up the delivery of weapons to the Lebanese army, as violence from Syria's conflict threatens to spill over.
The army has been fighting and Islamist militants from Syria for days around the eastern border town of Arsal.
A 24-hour ceasefire was agreed between the two sides, but reports say the truce collapsed within three hours when an army position came under fire.
Fighting began on Saturday when Syrian rebels raided the mainly Sunni town.
They objected to the detention by Lebanese forces of an alleged member of Syria's Islamist militant group al-Nusra Front.
Mediators attacked
At least 17 soldiers have been killed in the area since the weekend, with 22 more reported missing.
The "humanitarian ceasefire" which started at 19:00 local time (16:00 GMT) would allow time to investigate the fate of the missing soldiers and to evacuate the casualties, an unnamed security source told Reuters.
"Clashes erupted but now they have ended. The ceasefire is still on, it did not collapse. What happened was to be expected due to differences between the fighters," he said.
The agreement was reached under mediation by Muslim clerics seeking to end four days of fighting in Arsal.
The Syrian Islamist rebels released three policemen held captive in the city on Tuesday, apparently as a goodwill gesture in response to the mediation efforts.
Several members of the group, the Association of Muslim Scholars, were themselves injured when they came under attack from a hail of bullets on Monday.
"The driver managed to hide while my colleague and I were stuck in the car and I got hit in my ankle," Sheik Salem al-Rafei told Associated Press
The district around Arsal, in the north of the Bekaa valley, is known for continuing tension between the Lebanese army and Syrian militias.
In December, Saudi Arabia pledged to spend $3bn (£1.7bn) on French military equipment and weapons for Lebanon's army. The Lebanese Armed Forces (LAF), have long complained of being underfunded in a country rife with well-equipped militias.
The French Deputy Foreign Ministry spokesman Vincent Floreani said on Tuesday that France was "fully committed to supporting the Lebanese army, a pillar of stability and unity in Lebanon."
Fighting spreads north
On Monday night, fighting broke out in the northern port city of Tripoli, with gunmen opening fire on a bus carrying soldiers.
A young girl was shot dead in exchanges with gunmen around Lebanese army positions in the city.
The northern port city is divided between a Sunni population and the minority Shia Alawite community which supports Syrian President Bashar al-Assad.
Reports say fighting erupted after a demonstration against the army's handling of the situation in Arsal.