Palestinian arrested over murder of Israeli teenagers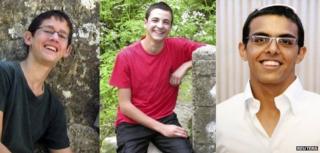 A Palestinian man has been arrested on suspicion of involvement in the murder of three Israeli teenagers in the West Bank, Israeli officials say.
Hussam Qawasmeh, a 40-year-old Hebron resident, was detained on 11 July while attempting to cross into Jordan.
Court documents said he had admitted helping to organise the abduction of Naftali Frenkel, Gilad Shaar and Eyal Yifrach and to bury their bodies.
Regional tensions rose significantly after their disappearance on 12 June.
Israel accused Hamas of responsibility and launched a crackdown on the militant Islamist group in the West Bank, detaining hundreds of members.
Then on 2 July, a Palestinian teenager from East Jerusalem was abducted and burned alive in an apparent revenge attack two days after the bodies of the Israeli teenagers were found. One Jewish man and two youths have been charged with the murder of Mohammed Abu Khdair.
The killings set off an escalating cycle of violence and led to a conflict between Israel and Palestinian militants in the Hamas-dominated Gaza Strip that has so far claimed more than 1,900 lives.
Demolition orders
Mr Qawasmeh's arrest was made public on Tuesday in a document from an Israeli court case over whether houses belonging to him and two previously identified suspects who remain at large - Marwan Qawasmeh and Amer Abu Aisha - should be destroyed.
The Israeli Supreme Court had blocked the punitive demolition orders and sought further justification from the state.
The state's response said Hussam Qawasmeh had admitted during an interrogation to helping organise the kidnapping of the Israel teenagers by obtaining funding from Hamas and purchasing weapons that he gave to the other two suspects.
Mr Qawasmeh also helped to bury the teenagers' bodies on a plot of land he had bought a few months before, the document added.
He has not yet been charged and confessions can be withdrawn at trial.
Israeli officials have said Marwan Qawasmeh and Mr Abu Aisha are known Hamas operatives, but the group has denied any involvement. Some have argued that the Qawasmeh clan might have acted on its own.