Jordan 'refuses' Palestinians fleeing Syria conflict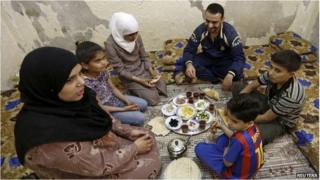 Jordan is turning away Palestinian refugees from Syria in violation of international law, the New York-based group Human Rights Watch says.
It is said to have forcibly repatriated more than 100 asylum seekers, including women and children, since mid-2012.
Most of the Palestinians come from refugee camps or villages in Syria that have experienced heavy fighting.
It appears that Jordan fears an influx of Syrian Palestinians would cause instability.
There was no immediate comment on the report from Jordanian officials.
Jordan reportedly introduced its non-admission policy in January last year.
The 44-page HRW report, entitled "Not Welcome: Jordan's Treatment of Palestinians Escaping Syria," documents Jordan's alleged deportation of seven Palestinian men who were separated from their families, and evidence of the transfer of four others to Cyber City, a closed holding facility for Palestinian and Syrian refugees in northern Jordan.
It also describes how Jordan withdrew citizenship from Palestinians who had lived in Syria for years and who had been detained or deported without identity documents.
By contrast, HRW says, Jordan has accepted more than 600,000 Syrian nationals into the country since the Syria conflict began.
Human Rights Watch say in May 2013, Fayez Tarawneh, Jordan's former prime minister, defended the non-admittance policy, telling its representatives that a big influx of Palestinians from Syria would alter the demographic balance of the kingdom and cause instability.
At least half the population of Jordan is believed to be of Palestinian origin.