Caution needed with Gaza casualty figures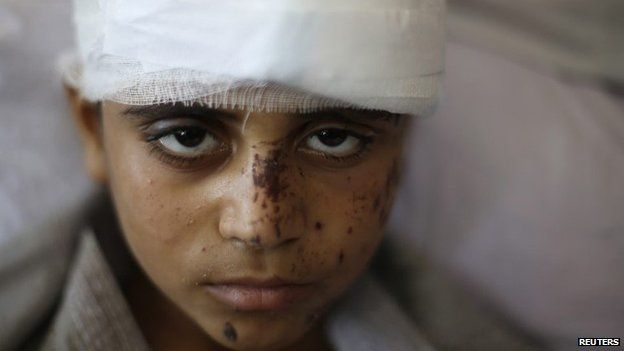 War zones are not easy places to collect statistics.
In the Gaza conflict, most news organisations have been quoting from the office of the UN High Commissioner for Human Rights (OHCHR), which leads a group of humanitarian organisations known as the Protection Cluster.
Its recent report said that as of 10 August, 1,948 Palestinians had been killed and 66 Israelis and one Thai national since Israel launched Operation Protective Edge on 8 July.
Of those Palestinians, the status of 320 could not be identified, at least 1,402 were civilians, including 456 children and 237 women, the UN body reported.
So there were 226 members of armed groups killed, and another 709 men who were civilians. Among civilians, three times as many men were killed as women, while three times as many civilian men were killed as fighters.
The UN report carries a caveat with its figures: "Data on fatalities and destruction of property is consolidated by the Protection and Shelter clusters based on preliminary information, and is subject to change based on further verifications."
There has been some research suggesting that men in general are more likely to die in conflict than women, although no typical ratio is given.
Nonetheless, the proportion of civilian men over 18 killed seems high and it is not immediately obvious why.
Matthias Behnk, from OHCHR, told BBC News that the organisation would not want to speculate about why there had been so many adult male casualties, adding that because they were having to deal with a lot of casualties in a short time, they had "focused primarily on recording the casualties".
"As such, we have not at this stage conducted a detailed analysis of trends of civilian casualties, for example in relation to the reasons why different groups are affected and the types of incidents, but hope to carry this out at some point in the coming future," he said.
"However, even in the compiling of these preliminary figures, we cross-verify between different sources, not only media and several different human rights organisations, but also use other sources, including, for example, names of alleged fighters released by the Israel Defense Forces (IDF) and notices by armed groups in Gaza claiming someone as a member."
A number of other news organisations have been considering the civilian-to-fighter ratio.
An analysis by the New York Times looked at the names of 1,431 casualties and found that "the population most likely to be militants, men ages 20 to 29, is also the most overrepresented in the death toll. They are 9% of Gaza's 1.7 million residents, but 34% of those killed whose ages were provided."
"At the same time, women and children under 15, the least likely to be legitimate targets, were the most underrepresented, making up 71% of the population and 33% of the known-age casualties."
The list of names and ages of the dead published by al-Jazeera also found men aged between 20 and 29 to be significantly overrepresented.
Many factors could have contributed to high fatality numbers among men aged 20 to 29.
Jana Krause, from the war studies department at Kings College London, says: "A potential explanation other than combatant roles could be that families expect them to be the first ones to leave shelters in order to care for hurt relatives, gather information, look after abandoned family homes or arrange food and water.
"Similar to combatant roles, these would be 'high-risk' social roles that young men are often expected to fulfil."
She stressed that more work would be needed on the ground to determine why this group was over-represented in the casualty figures.
Men of this age may also be mistaken for fighters because they fit the age profile.
The IDF say they have killed at least 253 Hamas operatives, 147 Islamic Jihad operatives, 65 "operatives of various organisations" and 603 "operatives whose affiliation is unknown", although they also stress that this is not a final number.
Spokesman Capt Eytan Buchman told BBC News that "the UN numbers being reported are, by and by large, based on the Gaza health ministry, a Hamas-run organisation".
He said that part of the reason for the discrepancy between the figures was "when militants are brought to hospitals, they are brought in civilian clothing, obscuring terrorist affiliations".
"Hamas also has given local residents directives to obscure militant identities," he said.
"It's important to bear in mind that in Operation Cast Lead [the last Israeli ground offensive in December 2008-January 2009], Hamas and Gaza-based organisations claimed that only 50 combatants were killed, admitting years later the number was between 600-700, a figure nearly identical to the figure claimed by the IDF."
It should be said that while Hamas said only 50 fighters had been killed in 2008-09, some human rights groups operating in Gaza were reporting considerably higher figures.
The point is that it is hard to say with certainty at this stage how many of the dead in Gaza are civilians and how many were fighters. This is in no sense the fault of the UN employees collecting the figures - their statistics are accompanied by caveats and described as preliminary and subject to revision.
But it does mean that some of the conclusions being drawn from them may be premature.
UPDATE 15 August 2014 - On 11 August, the following amendments were made to this article (originally published on 8 August):
1.Updated casualty figures
2.A line which appeared to question the UN Human Rights Council's description of Israeli attacks as "indiscriminate" was clarified
3.Inclusion of possible explanations for the higher proportion of deaths among men
4.Clarification that Gaza human rights organisations were among those reporting higher casualty figures than Hamas at the time of the 2008-9 Israeli ground offensive.
We expect to return to this subject at a later date.