Suspected al-Qaeda militants 'kill 14 Yemeni soldiers'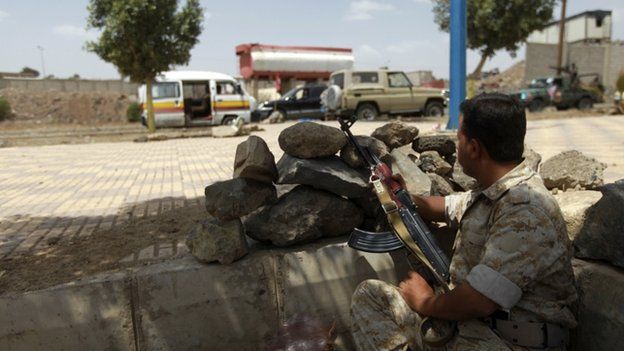 Suspected al-Qaeda militants have abducted and killed at least 14 soldiers in the east of Yemen, local officials and eyewitnesses say.
The men were ambushed as they were returning home from duty on a bus travelling to the capital on Friday.
Officials say they found their bodies a few hours later, near the southern city of Seiyoun, in Hadramout Province.
The attack is the latest in a series of assaults on the Yemeni army by militants with ties to al-Qaeda.
The militants stopped the public bus and checked the soldiers' identification papers before leading them off the bus and shooting them dead, officials said.
"An incident like this is for sure the work of al-Qaeda," an unnamed local official told Reuters news agency.
Yemeni President Abdrabbuh Mansour Hadi said earlier this year that Yemen was at war with al-Qaeda in the Arabian Peninsula (AQAP), the local offshoot of the global jihadist network.
Attacks by AQAP and its allies have hindered the government's efforts to restore stability to the country since pro-democracy protesters forced long-time President Ali Abdullah Saleh to hand over power in 2011.
At least 25 al-Qaeda militants have been killed in fighting with army forces in recent days, the defence ministry said.
President Hadi has recently reinforced troops in the volatile Wadi Hadramout area of eastern Yemen, in a bid to consolidate its grip over the area from the hands of AQAP militants.