Iraqi media broadly welcome new premier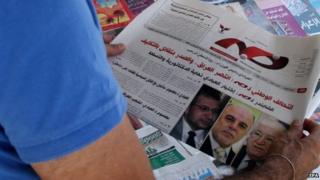 The appointment of Haider al-Abadi as prime minister-designate has been generally well-received in the mainstream Iraqi media.
Private television channels broadly support the move, and some pro-Sunni stations have strongly criticised outgoing Prime Minister Nouri al-Maliki's refusal to quit.
State-run Al-Iraqiyah TV continued its pro-Maliki line on Monday evening, but by Tuesday morning it stopped interviewing guests critical of the move and has been running more neutral reports on Mr Abadi's career and background.
Meanwhile, the non-partisan press has shown impatience with Mr al-Maliki, and news websites generally support the appointment of Mr Abadi.
'Right direction'
The Jordan-based Sunni channel Baghdad TV highlights voices in favour of Mr Abadi.
Ali Shubbar of the Shia Citizen called the appointment a "positive move in the right direction". Hasan Shuwaydir, an MP for the secular Al-Wataniyah Coalition, said his party welcomes the move, but would like to see a "clear plan of action" to solve the country's problems.
Baghdad TV has also aired its own draft agenda for the government, including "taking the army out of cities" and reforming the Federal Court.
Another Jordan-based Sunni channel, Al-Taghyir TV, accuses Mr Maliki of "clinging to power", and warns of pro-Maliki elite army forces being deployed in Baghdad. It has also noted US support for Mr Abadi.
London-based independent Al-Sharqiyah TV News sees the move as sidestepping sectarian concerns in favour of a "technocratic, rather than political solution to the crisis". It ran a report praising Mr Abadi's "technical skills that can overcome major economic and financial crises".
Shia MP Hamid Muala told the station: "We hope this move will be a breakthrough in political life, and congratulate the Iraqi people and Mr Abadi on accepting this responsibility".
Al-Iraqiyah has clearly toned down its pro-Maliki line. In place of interviewing his supporters on Tuesday, it switched to talking to members of the public expressing hope in the new government.
"Names don't matter. We just want to live in safety," a young man said.
'Maliki left us no option'
Pro-Shia Al-Mada Press news portal supports the decision to nominate Mr Abadi.
"Maliki left us no other option. Rebellion is doomed to failure," it said in a report that also played down "threats by Maliki loyalists to mobilize the people or army".
The Shia Burtha news portal is also supportive.
"Maliki is left alone, singing 'either the premiership or civil war'," mocks one report.
The Jordan-based Sunni Hirak news site takes a similar line, reporting on "domestic and foreign optimism about the departure of Maliki and calls for Abadi to introduce genuine change".
'Concern and fear'
Press commentary is less sanguine, with a range of journalists expressing fear that Mr Maliki may not step down without a fight.
Editor Basim al-Shaykh writes in the private newspaper Al-Dustur that the appointment of Mr Abadi "does not seem to have resolved the question".
He expresses "concern and fear" that, given the current military situation, Mr Maliki's intransigence could lead to "armed conflict and a deterioration in security, or even acts of revenge reflecting the frustration of the losing side".
Editor Adil Abd al-Mahdi writes in the pro-Shia newspaper Al-Adalah that Mr Maliki "should understand the situation and assist a peaceful transfer of power". He should also stop his supporters, not to mention troops, from protesting on the streets, according to the editor.
"It is the army's duty to patrol the confrontation line and not to be dragged into differences within a single party, bloc or alliance," writes MrMahdi, adding that now is the time for "reform, understanding and attempting to rebuild, not to destroy".
Ala Hassan writes in the independent newspaper Al-Mada that Mr Abadi could expect "many obstacles at the best of times" from Mr Maliki.
He deplores suggestions that Maliki supporters should dress in black "in mourning for the third term" of their leader, given that the black flags of the Islamic State jihadists are flying over cities in northern Iraq.
BBC Monitoring reports and analyses news from TV, radio, web and print media around the world. For more reports from BBC Monitoring, click here. You can follow BBC Monitoring on Twitter and Facebook.