Fleeing Yazidis bring tales of woe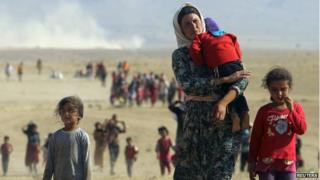 Through a haze of heat, hundreds of men and women from the Sinjar mountains finally reached sanctuary - of a sort - in northern Iraq on Tuesday.
Yazidi families streamed over the border in their hundreds, into Kurdistan, carrying their children, and little else. Their ordeal was etched on every face.
Goray Kassa and her six children sit on the ground in the shade of a tree; they were forced out of their home ten days ago.
She cries quietly as she explains that the family fled their village for the Sinjar mountain range when fighters from the Islamic State attacked. Her sister was killed, she says, and makes a cut-throat gesture across her neck.
Her sister's two children managed to flee onto the mountain, but as far as she knows, they have not yet escaped.
'Deliberately shot'
For the babies and young children here, lying exhausted on the parched ground in a little patch of shade, this is finally a chance to sleep without fear, though their mothers remain watchful.
Everyone we speak to says that Islamic state militants deliberately targeted fleeing women and children, shooting or stabbing them, while capturing other younger women and girls.
The Yazidi survivors say many of them remain in jails in Mosul and elsewhere. They fear they will be sold as slaves or into prostitution with jihadi fighters; fleeting whispered telephone calls from some of those imprisoned seem to have confirmed their relatives' worst fears.
Somehow, these families at Fishkharbur survived not just the massacre by Islamist militants, but the next enemies on their journey: hunger, and heat. Though many are still sick or dehydrated, most now have food and water. Local well-wishers have driven to them to bring fresh clothing, such as tee-shirts for the children, and home-cooked food for the families.
Ten hour walk
We meet Shirwa Ali's family of nine as they walk determinedly towards the vehicles that arrived late in the morning, to collect families and take them to the nearest towns such as Zakho and Dohuk.
He explains that the family has been walking for ten hours after they fled the mountain, and across into Syria and finally back into northern Iraq. They have no idea where they will sleep tonight, but are simply relieved to be alive.
Kurdish and international aid agencies are here, and doing their best to provide help, including food and shelter. But the needs are immense: over 35,000 of the Yazidi minority have now arrived in this province.
All need somewhere to sleep and the majority of these survivors will sleep - for now - in derelict buildings in the nearest towns they can reach, or in schools given over to the refugees, though new camps for them are slowly being built.
This Kurdish area of northern Iraq is now home to many hundreds of thousands of people displaced by the fighting in Iraq and Syria. The Yazidi families who make up the latest arrivals may not know where they are going next, but they do know they cannot go home.
Their old villages are now part of the Islamic state, no longer under Iraqi control, and they themselves just some of the victims of the shifting sands of the new Middle East.