Gaza conflict: Peace talks resume in Cairo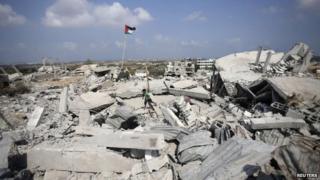 Israel and the Palestinians have resumed peace talks as the expiry of a five-day ceasefire in Gaza looms.
As the negotiating teams gathered for indirect talks in Cairo, Israeli PM Benjamin Netanyahu said Israel would make no concessions on security.
Hamas, which controls Gaza, is demanding an end to the Israeli and Egyptian blockade of the territory.
More than 2,000 people, mostly Palestinians, have been killed since the Gaza conflict began on 8 July.
Israel started its offensive in response to militant attacks, including rocket fire, from Gaza.
The current ceasefire came into effect on Thursday - building on a previous three-day truce. But it is due to expire at midnight (21:00 GMT) on Monday.
Reports say an Egyptian plan would see the current ceasefire being extended, allowing both sides to resume talks on the most difficult issues at a later date.
'Clear mandate'
At his weekly cabinet meeting, Mr Netanyahu was uncompromising on the issue of Israeli security.
"The Israeli delegation in Cairo is acting with a very clear mandate to stand firmly on Israel's security needs," he said.
Israel wants to see the complete demilitarisation of Gaza. Egyptian and Palestinian sources have previously said that Israel has indicated it may relax parts of the blockade on Gaza.
An unnamed Palestinian negotiator quoted by Associated Press news agency said his side was "less optimistic than we were earlier" about reaching a deal before the ceasefire runs out.
However, Palestinian delegation head Azzam al-Ahmad told AFP he had "high hopes of reaching an agreement very soon".
Hamas spokesman Abu Zuhri said the Palestinians would not back down from demands for an end to the blockade.
"All these demands are basic human rights," he said.
Hardship
The latest Gaza conflict began as tensions escalated over the arrests of Hamas-linked militants blamed by Israel for the abduction and killing of three Israeli teenagers.
Israeli air strikes and shell fire have sharply increased the hardship suffered by civilians in Gaza, with homes destroyed and a lack of water and medical supplies.
Israeli civilians have been forced to seek shelter from hundreds of rockets launched at Israel, though many missiles have been blocked by the Iron Dome defence system.
Most of the more than 1,900 Palestinians killed are civilians, according to the United Nations.
On the Israeli side, 67 people, all but three of them soldiers, have died.
Israel occupied Gaza in 1967 and pulled its troops and settlers out in 2005.
However, it still exercises control over most of Gaza's borders, water and air space, while Egypt controls Gaza's southern border.