Syria conflict: US bans airlines from flying over Syria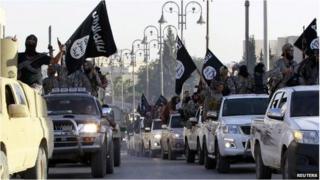 American civilian aircraft have been banned from flying over Syria because of the risk from extremist groups.
The US's Federal Aviation Authority (FAA) said in a statement that such groups were "known to be equipped with a variety of anti-aircraft weapons'.
"Opposition elements" had warned against flying over Syria, it said.
Most American and other commercial airlines had already stopped flying over and into Syria during the past three years of the conflict.
In May last year, the FAA warned against flights over Syria, but on Monday decided to prohibit them altogether.
The issue of aircraft flying over conflict zones has been in the spotlight since Malaysia Airlines flight MH17 was shot down over eastern Ukraine on 17 July.
'Recruitment drive'
Meanwhile, the Syrian Observatory for Human Rights (SOHR), a UK-based activist group, has said the militant group Islamic State (IS) is recruiting in Syria in record numbers.
SOHR, which monitors data from both sides of the conflict, said more than 6,000 new fighters joined IS in Syria last month, the group's fastest rate of expansion.
President Bashar al-Assad has been accused of allowing IS to flourish as part of efforts to defeat mainstream rebels.
On Monday, Deputy US State Department spokeswoman Marie Harf said Washington and Damascus were "not on the same page" over what to do about IS.
"In Iraq, we have a government that has asked for our help and asked for our support and welcomed us in. That obviously is not the case in Syria," she said.
Her comments came as President Assad's forces continued to bomb IS positions in Syria's northern province of Raqqa and target IS-held positions from the air over Aleppo.
Across the border from Syria in neighbouring Iraq, the US has been using air strikes to support the Iraqi government and Kurdish forces trying to push back IS insurgents since 8 August.
At least 170,000 people, a third of them civilians, have been killed in Syria since the uprising against President Bashar al-Assad began in 2011.