Timeline: How the Syria conflict has spread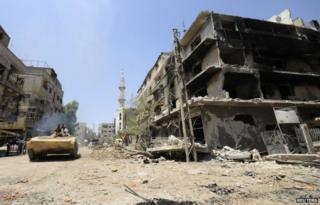 A year ago, a deadly chemical weapons attack on the outskirts of Syria's capital Damascus almost triggered US military strikes.
Since then, the balance of power in the conflict has tipped in favour of President Bashar al-Assad, the death toll has mounted steadily, fighting has spilled into Lebanon, and jihadist militants from the Islamic State (IS) have formed a caliphate in a huge area straddling the border with Iraq.
The BBC News website looks at how Syria's civil war has spread.
21 August 2013
Hundreds of people are killed when rockets filled with the nerve agent sarin are fired at several districts in the Ghouta agricultural belt around Damascus. The international community expresses outrage at the most significant confirmed use of chemical weapons against civilians since Halabja in 1988. Western powers say the attack could only have been carried out by Syria's government, but President Assad blames rebels.
14 September 2013
Facing the prospect of US military intervention, President Assad agrees to the complete removal or destruction of Syria's chemical weapons arsenal by a joint mission led by the UN and Organisation for the Prohibition of Chemical Weapons (OPCW) by 30 June 2014.
The destruction of chemical agents begins in October 2013 and the first container of chemical weapons is transferred to a ship at the Mediterranean port of Latakia in January 2014.
20 October 2013
At least 30 people are killed by a suicide truck bomb blast at a checkpoint in the central city of Hama. The attack is one of at least 27 suicide bombings that take place in Syria during 2013, leaving some 400 people dead. Their frequency increases in line with the growth in power and influence of extremist jihadist groups like al-Qaeda's affiliate in Syria, the al-Nusra Front, and the Islamic State in Iraq and the Levant (Isis).
Human cost of conflict
2.9m
Refugees have fled abroad to escape the fighting in Syria
1.2m
Iraqis have been internally displaced
10.8m Syrians in need of humanitarian aid

1m Iraqis living in refugee camps or receiving emergency supplies

2,410 tonnes Tents and equipment being sent to Iraq in massive UN aid operation
AFP
November 2013
Syrian government forces launch a large-scale air campaign on opposition-held parts of the northern city of Aleppo and its surrounding countryside. Unguided barrel bombs - typically constructed from oil drums, gas cylinders and water tanks, and filled with high explosives and scrap metal - are dropped indiscriminately from helicopters on densely-populated areas. The attacks kill hundreds of civilians.
19 November 2013
At least 22 people are killed in a double suicide bombing outside the Iranian embassy in the Lebanese capital, Beirut. An al-Qaeda-linked jihadist group, the Abdullah Azzam Brigades, claims responsibility and says it will continue attacks until Iranian forces leave Syria. Iran has sent advisers to help the Syrian military and is the main backer of Hezbollah, the Lebanese Shia Islamist group whose fighters have played a key role in helping turn the tide in President Assad's favour.
30 December 2013
Isis fighters and allied tribesmen capitalise on tensions between Iraq's Sunni Arab minority and its Shia Arab-led government by taking control of the city of Falluja and seizing parts of nearby Ramadi, the capital of the western province of Anbar. The move comes after Prime Minister Nouri Maliki, widely accused of pursuing sectarian and authoritarian policies during his two terms in office, orders security forces to break up anti-government protest camps. Hundreds of thousands of Iraqis are displaced by the violence.
January 2014
Syrian rebels from the Islamic Front, an alliance of hardline Islamist groups, al-Nusra and the pro-Western Free Syrian Army launch a joint offensive against Isis fighters, angered by their attacks on fellow rebels and abuse of civilians. Thousands of people are killed in the rebel infighting, which allows government forces to consolidate their control of southern and central Syria. Isis is pushed out of much of Aleppo province, but is able to hold on to its stronghold of Raqqa province.
29 April 2014
The OPCW launches a fact-finding mission to investigate allegations that chlorine gas has been used in more than a dozen attacks in rebel-held areas of Hama and Idlib provinces. In every case, barrel bombs were allegedly dropped from helicopters. After they exploded, casualties reportedly began displaying symptoms typical of chlorine poisoning. In June, the inspectors say they believe toxic chemicals such as chlorine are being used in a "systematic manner" in the Syrian conflict.
8 May 2014
Hundreds of rebels are evacuated from their last stronghold in the central Syrian city of Homs. The withdrawal from the Old City marks the end of three years of resistance in the city, once dubbed "the capital of the revolution". Much of Homs fell to the opposition in 2011, but over the next two years government forces gradually regained control by subjecting areas to continuous siege and bombardment.
10 June 2014
Six months after seizing Falluja, Isis militants launch a major offensive in northern Iraq. They overrun the country's second largest city, Mosul, in only two days as 30,000 soldiers drop their weapons and flee. Emboldened, the jihadists advance southwards with the support of Sunni Arab tribesmen and other militant groups, seizing a series of towns, military bases and oil refineries before being stopped not far from the capital, Baghdad. Nouri Maliki rejects calls from Sunni Arabs, Kurds and fellow Shia Arabs to step aside as prime minister.
23 June 2014
The joint OPCW-UN mission announces that the removal of Syria's chemical weapons material is complete. It also says Syria has destroyed all declared production, mixing and filling equipment and munitions. In August, the US says all of the most hazardous chemical agents have been destroyed on board a cargo vessel, the MV Cape Ray. The remaining chemicals will be destroyed at Finnish and British facilities.
29 June 2014
Isis declares it has established a "caliphate" in the territory it controls, stretching from Aleppo in north-western Syria to the eastern Iraqi province of Diyala. The group says its leader, Abu Bakr al-Baghdadi, will be known as Caliph Ibrahim and it will be renamed the Islamic State (IS).
1 August 2014
A deadly battle erupts between the Lebanese army and jihadist militants from Syria after they seize the Lebanese border town of Arsal in response to the arrest of one of their commanders. Dozens of people are killed before a ceasefire is negotiated and the militants withdraw. Arsal is home to tens of thousands of the 1.1 million Syrian refugees in Lebanon.
2 August 2014
IS fighters push further into northern Iraq, overwhelming lightly-armed Kurdish Peshmerga forces that had moved into areas abandoned by the Iraqi army. The town of Sinjar is overrun and the strategically important Mosul Dam, which supplies water and electricity to much of Iraq, is seized, and get within 40km (25 miles) of Irbil, the capital of Iraqi Kurdistan.
Tens of thousands of people flee their homes, particularly members of religious minorities. Some 50,000 Yazidis become trapped on Mount Sinjar without food or water, triggering an international aid operation.
8 August 2014
The US launches air strikes against IS militants near Irbil and around Mount Sinjar, its first direct involvement in a military operation in Iraq since American troops withdrew in late 2011.
11 August 2014
Iraq's Shia Deputy Speaker of Parliament, Haidar al-Abadi, is asked by the country's president to form a new government including leaders of all religious, ethnic and political factions. The move is initially rejected by Nouri Maliki, but he agrees to step down after Iran makes clear he has lost its support. Tribal sheikhs and clerics from Iraq's Sunni heartland offer Mr Abadi conditional backing.
13 August 2014
Islamic State militants launch an offensive in north-western Syria, capturing several villages and moving to within 50km (30 miles) of opposition-controlled suburbs of the city of Aleppo and within striking distance of key rebel positions leading to the Turkish border.
18 August 2014
Supported by US air strikes, Iraqi troops and Peshmerga fighters retake the Mosul dam. US President Barack Obama confirms the US is beginning a long-term strategy to help defeat Islamic State.
20 August 2014
Islamic State publishes online a video showing the killing of James Foley, an American journalist who was abducted in northern Syria in 2012. The group says his death is revenge for the US military intervention in Iraq. The group is believed to be holding as many as 20 foreign hostages.