Iraq forces defeat militant push to take oil refinery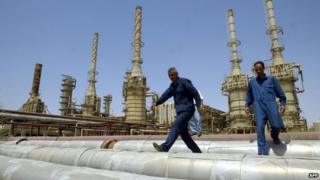 Iraqi government forces say they have defeated a militant attack on the country's largest oil refinery, killing several insurgents.
The Baiji refinery in northern Iraq has been the site of several battles between government forces and militants over the past few months.
The Islamic State (IS) militant group is suspected of carrying out the attack.
Meanwhile, a car bomb killed at least seven people in the capital Baghdad.
The bombing targeted the mostly Shia district of Shula.
IS has seized large swathes of Iraq and Syria in recent months.
Since 8 August, the US has carried out more than 90 air strikes to support Iraqi and Kurdish troops tackling the insurgents.
Iran's Foreign Minister Mohammad Javad Zarif is currently in Baghdad to talk about the growing threat posed by IS.
Attractive target
The militants launched their push on the Baiji refinery on Saturday and the fighting continued into Sunday, police sources and witnesses told the AFP news agency.
But the insurgents were eventually pushed back by security forces.
The refinery is an attractive target for IS militants, as it produces about a third of Iraq's oil output.
IS has already taken over large parts of northern Iraq and Syria - including oil-producing areas,
Their campaign has also displaced an estimated 1.2 million people in Iraq, many of them minority Christians and Yazidis.
On Saturday the UN called for action to prevent what it says may be a possible massacre in the northern Iraqi town of Amerli.
Amerli, under siege by IS for two months, has no electricity or drinking water, and is running out of food and medical supplies.
---
Analysis: Jim Muir, BBC News, Suleiman Beg, near Amerli
The chances of anyone being able to break the two-month-old siege of Amerli soon seem very slight. There are believed to be around 2,000 armed fighters defending the beleaguered town, a mixture of police units, civil defence and local men.
The only links with the outside world are occasional flights in by Iraqi army helicopters, which may have brought in some extra fighters - army or Shia militia - as well as emergency supplies.
But Peshmerga forces on the front line overlooking Suleiman Beg - which is held by IS - say their orders are to defend themselves, not launch attacks against the militants besieging Amerli.
In recent weeks American jets and drones have carried out air strikes in support of Kurdish ground forces.
Amerli is a Turkmen Shia minority village lying outside the current boundaries of Iraqi Kurdistan, to which the US has restricted its air support pending the formation of an inclusive Iraqi government with full Sunni representation.
But humanitarian air drops might ease the physical plight of the estimated 16,000 townspeople trapped in Amerli, without signalling intervention on one side in a conflict which has a strong element of sectarian civil war to it.
---
In the nearby town of Tuz Khormatu, the District Mayor, Shalal Abdal Ahmad, called for international intervention with air drops of relief supplies, and American air strikes co-ordinated with a ground offensive.
"There are human beings there who will die from thirst, from hunger and from IS," he said. "If IS takes over Amerli, something terrible will happen, because the town resisted, clashed with IS and inflicted heavy losses, killing more than 150 of their fighters."
Crisis talks
As the violence continues, the rise of IS is an urgent point of discussion for Iraq's neighbours and the wider region.
Iranian Foreign Minister Mohammad Javad Zarif is currently in Baghdad to discuss an international effort to eliminate the militant group.
Meanwhile Saudi Arabia is hosting a meeting of foreign ministers from Egypt, Jordan, Qatar and the United Arab Emirates to discuss their response.
The ministers are from the Friends of Syria group, which opposes the government of Syrian President Bashar al-Assad.
---
Formed out of al-Qaeda in Iraq (AQI) in 2013, IS first captured Raqqa in eastern Syria
By early 2014, it controlled Falluja in western Iraq
Has since captured broad swathes of Iraq, seizing the northern city of Mosul in June
Fighting has displaced at least 1.2 million Iraqis
Pursuing an extreme form of Sunni Islam, IS has persecuted non-Muslims such as Yazidis and Christians, as well as Shia Muslims, whom it regards as heretics
In July alone, IS expanded dramatically, recruiting some 6,300 new fighters largely in Raqqa, an activist monitoring group said
---