Iraq: 'Eight die' as bomb rocks Baghdad Shia district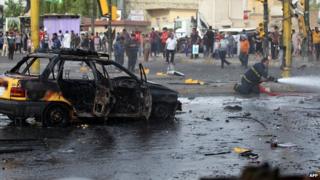 A car bomb in a mainly Shia district of Baghdad has killed at least eight people and wounded around 20 others.
The blast in the Iraqi capital comes a day after a suicide bombing on a Shia mosque in the same area.
There has been a spate of attacks on Shia after at least 68 people were shot dead at a Sunni mosque on Friday.
Prime Minister-designate Haider al-Abadi, a moderate Shia, is trying to form a more inclusive government after the resignation of Nouri Maliki.
Tuesday's attack occurred when a car rigged with explosives detonated during the morning rush hour close to outdoor markets, according to police speaking to the Associated Press.
It took place in Baghdad's Jadida district, a busy commercial area with a Shia majority.
On Monday, a wave of attacks struck Shia areas in several cities, including a suicide bombing at a Shia mosque in the same area of Jadida, which left at least nine worshippers dead.
The cities of Karbala and Hillah, both south of the capital, were also reportedly hit by a series of car bombings, which killed at least 23 people, according to AP.
Monday's attacks came three days after some 70 people were killed at a Sunni mosque near Baquba, about 120km (75 miles) north-east of Baghdad in a mass shooting blamed on Shia militia.
Tensions in Iraq between Shia and Sunni groups have been further heightened by the advance of Islamic State (IS) militants and the Sunni groups allied with them.
Outgoing Prime Minister Nouri Maliki was widely criticised for marginalising Iraq's Sunni minority.
President Fuad Masum, who was appointed in July, asked Haider al-Abadi to take Mr Maliki's place and form an inclusive government.
Mr al-Abadi's efforts to form a new government took a blow after two leading Sunni politicians abandoned talks following Friday's attack.
Parliamentary Speaker Salim al-Jabouri and Deputy Prime Minister Saleh al-Mutlak announced they would suspend their participation in talks on a new cabinet in protest at the massacre.