Egypt investigates Morsi over 'Qatar document leak'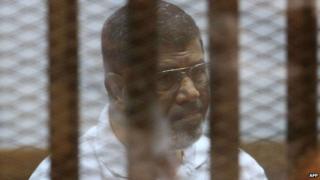 Egypt has opened an investigation into ousted President Mohammed Morsi for allegedly handing over secret files to Qatar, state media report.
Mr Morsi was suspected of leaking "documents relevant to national security" via the Doha-based al-Jazeera TV network, the Mena news agency said.
Qatar supports the Muslim Brotherhood, the Islamist group to which he belongs.
Mr Morsi, who was overthrown by the military last summer, is facing four separate trials on various charges.
They include conspiring with foreign terrorist groups, inciting the murder of his opponents when he was in power, and orchestrating a prison break during the 2011 uprising that toppled his predecessor, Hosni Mubarak.
Several other Brotherhood leaders, as well as hundreds of ordinary members, have already been sentenced to death.
A crackdown by the authorities over the past year has seen more than 1,400 people killed and 16,000 others detained, rights activists say.
'Phone call'
On Wednesday, Mena reported that Mr Morsi was suspected of providing "documents relevant to national security to Qatar via the Qatari al-Jazeera chain when he was president of the republic".
In March, Egypt's interior minister accused Mr Morsi's secretary, Amin al-Sefafi, of giving documents about the army, its weapons and troop deployments to an al-Jazeera editor who was a Brotherhood member.
A security official told the Reuters news agency on Wednesday: "Officials recorded a phone call between the daughter of Morsi's secretary and an Egyptian journalist who works for al-Jazeera in which the woman said she wanted to give him important security documents."
"Morsi is being investigated to find out if he knew about this phone call or if he had leaked these documents to his secretary," the official added.
"We also know that the woman had been trying to send the documents to the Qatari intelligence."
In response, al-Jazeera told Reuters: "Any information al-Jazeera receives is handled with the highest standard of journalistic ethics. We do not therefore comment on sources, or pass information to governments."
Relations between Egypt and Qatar have been strained since the military ousted Mr Morsi in July 2013 after protests against his one-year rule.
Last June, a court in Egypt sentenced three al-Jazeera English journalists to between seven and 10 years in prison after convicting them of spreading false news and assisting the Brotherhood, which was designated a terrorist group at the end of last year.
The three journalists - Egyptian-Canadian bureau chief Mohamed Fahmy, Australian reporter Peter Greste and Egyptian producer Baher Mohamed - strenuously denied the charges and are planning to appeal.