Bahrain journalist Ahmed Humaidan's sentence upheld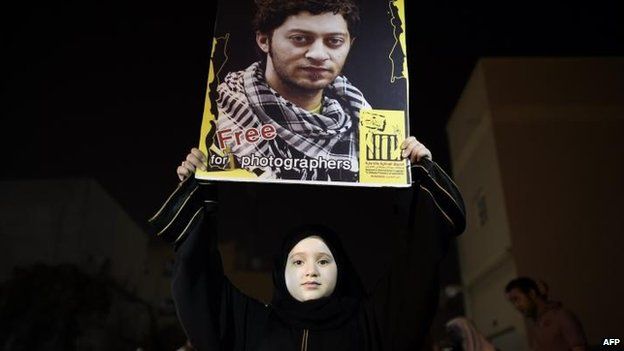 The Supreme Court of Appeal in Bahrain has upheld a 10-year-jail sentence on photojournalist Ahmad Humaidan.
Humaidan, 25, was convicted of taking part in an attack on a police station in Sitra in April 2012.
Human rights groups say he was simply covering pro-democracy protests that erupted among Bahrain's Shia majority.
The photojournalist won the National Press Club's John Aubuchon Press Freedom Award for 2014 and has always maintained his innocence.
He has been in detention since December 2012.
Twenty-six other defendants were also sentenced to 10 years in jail, while another three received three-year terms. Three more were acquitted.
Separately on Saturday, prominent human rights activist Maryam al-Khawaja was detained while trying to enter Bahrain, reportedly to visit her father, the activist Abdulhadi al-Khawaja, who is in jail.
Mr Khawaja's lawyer, Mohammed al-Jishi, said Ms Khawaja, the co-director of the Gulf Centre for Human Rights, was denied entry and told that she had been stripped of her Bahraini citizenship.
She was later granted a visa but was detained for seven days, Mr Jishi told AFP.
Human Rights Watch described her arrest as "outrageous" and expressed its deep concern, saying it was "unlawful to arbitrarily deny person entry or citizenship".
Maryam al-Khawaja and her father hold dual nationalities for Bahrain and Denmark.
Mr al-Khawaja, 54, is serving a life sentence for plotting to overthrow the monarchy. He staged a 110-day hunger strike in 2012 in protest against his imprisonment. He is currently on hunger strike again.
Both Amnesty International and Human Rights Watch describe him as a "prisoner of conscience".
Inspired by the Arab Spring in Tunisia, Egypt and elsewhere, protests by Bahrain's Shia majority were crushed in 2011 by supporters and troops loyal to the country's ruling Sunni minority.
The Gulf Cooperation Council sent in a force, led by Saudi Arabia, at Bahrain's request in March 2011.