Iraq crisis: Two bombs kill at least 20 in Baghdad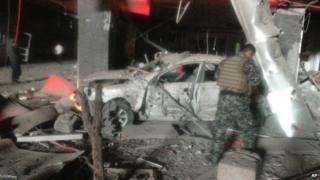 More than 20 people were killed and dozens injured after two bombs went off in Iraq's capital Baghdad on Thursday.
A car bomb in Kadhamiya, a mainly Shia area that has seen several attacks in recent days, killed at least 11.
Separately, a suicide bomber drove a vehicle packed with explosives into a police checkpoint in central Baghdad, killing nine people.
Sectarian tension has been rising in Iraq in recent months amid political chaos and an Islamic State offensive.
Last week, a car bomb in the mainly Shia neighbourhood of Jadida killed at least eight and wound about 20 others. There was also an attack on a Shia mosque.
The spate of attacks on Shia came after at least 68 people were shot dead at a Sunni mosque earlier in August, in a mass shooting blamed on Shia militia.
Tension between Shia and Sunni groups in Iraq has been further heightened by the advance of Islamic State militants and the Sunni groups allied with them.
Prime Minister-designate Haider al-Abadi, a moderate Shia, is trying to form a more inclusive government after the resignation of Nouri Maliki.
Outgoing Prime Minister Nouri Maliki was widely criticised for marginalising Iraq's Sunni minority.
Mr Abadi's task was made tougher after two influential Sunni politicians suspended participation in talks on a new cabinet in protest at the mass shooting at a Sunni mosque.
Talks on forming a new government have resumed but Iraqi media said they had broken up on Thursday without an agreement.