Egypt ex-President Morsi charged over Qatar files leak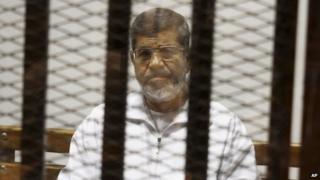 Ousted Egyptian President Mohammed Morsi is being charged with handing over national security documents to Qatar, the state prosecutor says.
Relations between Egypt and Qatar have been strained since the military ousted Mr Morsi in July 2013 after protests against his one-year rule.
Qatar supports the Muslim Brotherhood, the Islamist group to which he belongs.
He faces several trials for charges including espionage. He has called the court illegitimate.
Several other Muslim Brotherhood leaders, as well as hundreds of ordinary members, have already been sentenced to death.
A crackdown by the authorities over the past year has seen more than 1,400 people killed and 16,000 others detained, rights activists say.
Mr Morsi will be tried for having "handed over to Qatari intelligence documents linked to national security... in exchange for $1m (£610,000)", the prosecutor said in a statement quoted by AFP news agency.
---
Charges against Morsi
Inciting violence against protesters outside the presidential palace in 2012
The murder of prison officers during his escape from jail during the 2011 uprising against former President Hosni Mubarak
Fraud connected to Muslim Brotherhood's economic policies
Revealing state secrets to foreign organisations
Conspiring with foreign organisations to commit terrorist acts
Read more: What's become of Egypt's Morsi?
---
Mr Morsi was accused of passing on the files via Doha-based TV network Al Jazeera.
When the allegations emerged in August, Al Jazeera told Reuters: "Any information Al Jazeera receives is handled with the highest standard of journalistic ethics. We do not therefore comment on sources, or pass information to governments."
Last June, a court in Egypt sentenced three Al Jazeera English journalists to between seven and 10 years in prison after convicting them charges including of spreading false news.
The three journalists have strenuously denied the charges and plan to appeal.
The court decision was criticised by journalists and human rights groups, who have campaigned for their release.
'Please be patient'
Mr Morsi's successor, former army chief Abdul Fattah al-Sisi, won elections in May after pledging to boost Egypt's economy and standard of living.
However, Egypt has continued to be hit by power cuts, including a one-hour blackout across most of Cairo on Thursday that angered many residents.
On Saturday, Mr Sisi urged Egyptians to "please be patient".
"We will be able to overcome all those problems, but this is not going to happen overnight or in a month or two," he said.
The energy supply problems are reportedly linked to ageing infrastructure, dwindling local gas production and a struggle to pay off debts to foreign oil and gas companies.