Syrian conflict: Assad forces 'hit IS-run bakery'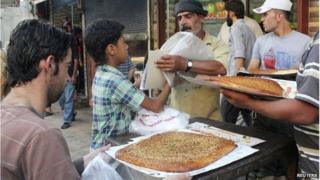 Syrian government jets have hit a training camp and a bakery run by the Islamic State militant group in Raqqa, killing 25 people, activists have said.
Civilians and militants died in the strikes, UK-based Syrian Observatory for Human Rights said.
IS fighters joined the three-year civil war in Syria last year and have since pushed forces loyal to President Bashar al-Assad out of Raqqa province.
Raqqa city is now the headquarters of its so-called caliphate.
Experts estimate the group has taken over about one-third of Iraq and Syria.
It has established courts, a central bank and an administrative system.
The group sealed control over the whole of Raqqa province last month when it pushed government forces out of a final military base.
IS fighters murdered dozens of solders after the takeover.
Since then, the government has launched a number of air strikes.
Syrian state news agency Sana confirmed "army operations against terrorist organisations" were being carried out across Raqqa province.
Sana said the operations were "eliminating increasing numbers of terrorists", and had destroyed ammunition and weapons belonging to IS.
The Sana report did not carry details of casualties.
The Observatory said government forces have hit the Raqqa training camp several times.
And earlier this week 18 foreign jihadists were reportedly killed in a strike on a town near Raqqa.