Egypt orphanage video: Manager jailed for beating children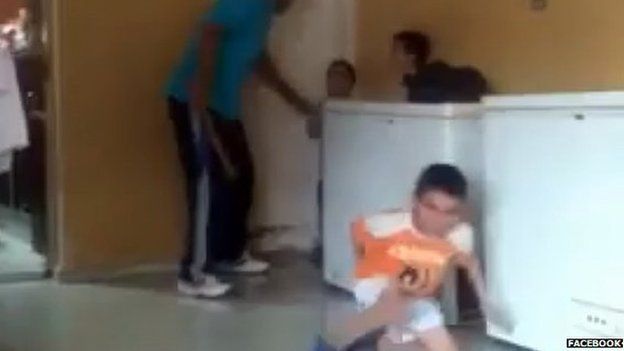 A court in Egypt has sentenced the head of a Cairo orphanage to three years in prison for assaulting seven children in his care and endangering their lives.
Osama Mohammed Othman was arrested in August after a video emerged showing him beating children with a stick.
The sentence includes two years' hard labour. The third year was suspended pending the payment of $110 (£87) bail.
The victims - aged between four and seven - said Othman attacked them for not asking for permission to watch TV.
The video of the assaults at the Mecca Orphanage in Giza was filmed by Othman's estranged wife and published online last month.
She told Egyptian TV that she "could not remain silent anymore".
Within a day, the video had been viewed tens of thousands of times and caused such an outcry that President Abdul Fattah al-Sisi intervened.
The children were then transferred to another facility and the orphanage's board of directors was dismissed.
Othman was arrested and charged with assault, forced child labour and violating child laws.
A senior security official said that during questioning Othman justified his actions by saying he had been trying to teach the children "a lesson" as they were playing with electrical devices and he feared for their lives.
Abuse of children in orphanages in Egypt is well-documented, although rarely reported in the media.