Islamic State crisis: Daunting task ahead for US-led coalition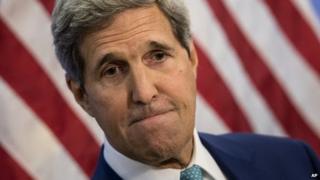 The US Secretary of State John Kerry has declared his coalition-building efforts in the Middle East a success.
He says he has won "full-throated" support from Sunni governments in the region for America's campaign against Islamic State (IS) militants who've taken over large areas of Syria and Iraq.
The whirlwind tour took in five key countries - Iraq, Jordan, Turkey, Egypt and Saudi Arabia - and each of them "is going to play a critical role in everything we do", according to a US official travelling with Mr Kerry.
But few specifics have been presented to flesh out these upbeat assessments in the scramble to craft a coherent plan from contributions offered by at least 40 countries in time for the UN General Assembly next week.
The cornerstone of the trip was a communique signed in Jeddah by 10 Sunni Arab governments agreeing to "do their share" in the comprehensive fight against IS, including participation in a coordinated military campaign.
The military details, at least, seem to be falling into place.
Sharing the burden
Senior US State Department officials say several Arab countries have offered to conduct air strikes. This would be subject to approval from Iraq - where the fight against IS is focused - and decisions about how the air campaign is ultimately organised.
The Shia-led government in Iraq has a close military relationship with the US but none with its Sunni neighbours, who viewed the previous leadership in Baghdad as clients of Iran, their regional rival.
Indeed, State Department officials suggested any Arab air component might be more likely should the decision be made to strike in Syria, where Sunni states have been supporting rebels in the fight against the regime of President Bashar al-Assad.
For the Americans, securing agreement to use regional bases and air space was a key military priority: that seems to have been forthcoming from Gulf Arabs, the first tangible sign of which is the announcement that Australian troops will be hosted at a US base in the United Arab Emirates.
It wasn't forthcoming in Turkey, which shares a border with both Iraq and Syria. It will only allow humanitarian and logistical operations from the Nato air base in the southern part of the country.
Ankara wants to keep a low profile because IS fighters are holding 49 Turks hostage, including diplomats and children.
But it also has other reservations about any intervention that might take pressure off the Assad regime or strengthen Kurdish militants who have long battled the Turkish state.
Cutting IS funds
It wasn't clear whether Mr Kerry made headway on another high priority issue: cutting off millions of dollars in oil revenue pocketed by IS from fuel smuggled largely across the Turkish border.
According to reports in Western media, Ankara has taken steps to reduce the smuggling, but not enough to significantly stem the flow of black-market fuel that also means lower prices for Turks.
Mr Kerry was quite explicit at the meeting of Arab foreign ministers in Jeddah about another Washington concern: the funding of extremist groups by private donors in the Gulf states.
Most of the discussion was centred on legal issues such as how to prosecute violators, according to a State Department official.
"A lot of progress has been made," she said, "but much more needs to be done, frankly, in Kuwait and Qatar, where enforcement has been spotty."
Political unity
Perhaps the most significant of Mr Kerry's achievements was political.
He managed to convince Sunni leaders that the expansionist ambitions of IS presented a common threat, getting them to overcome internal rivalries and competing interests and unite on a programme of action.
To avoid charges of launching a war against Islam, the US needs Sunni states to endorse the campaign against a Sunni movement claiming Islamic credentials.
It's hoped this will also help Washington avoid the appearance of taking one side in a civil war by backing the Shia-led government in Iraq.
Mr Kerry also orchestrated the beginning of Iraq's reintegration into the region, securing an invitation to the Jeddah conference for the new government in Baghdad.
This was crucial as strengthening the Iraqi government and security forces with regional support is central to the US strategy.
In fact, more important than Arab participation in air strikes is building up Arab ground forces, and this is perhaps the most challenging part of the overall strategy.
Even with the commitments secured to amp up training and equipment, it will take time to rebuild a national Iraqi army that was essentially used as a sectarian tool by the former Shia prime minister and weakened by rampant corruption.
Engaging US foes
In the case of Syria the task is even greater.
The plan is to use the weakest rebel force on the ground - the so-called moderates of the Free Syrian Army - to take on the military might of Islamic State.
Just last month, Mr Obama said it was a fantasy to think that arming the rebels could change the conflict.
And despite the rehabilitation of Iraq, the main Shia player in the region, Iran, is not part of the coalition.
This has partly to do with US policy towards Tehran, but a lot to do with fierce Sunni objections, even though they are in the unusual position of finding common ground with Iran in their mutual opposition to the virulently anti-Shia IS.
Without Iran on board it's difficult to see how the coalition's campaign can bring stability to the region, even if it is likely to weaken Islamic State.