Middle East TVs careful with Haines video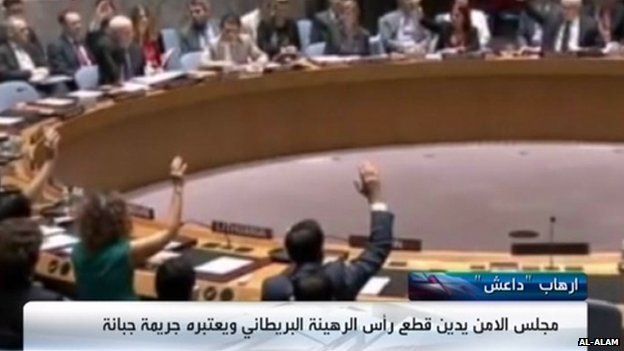 Television channels across the Middle East have given mixed coverage to the beheading of the British hostage, David Haines, by Islamic State. Most chose not to broadcast the most graphic pictures from the video released by the group on Saturday.
Two pan-Arab channels, Dubai-based al-Arabiya and Iranian al-Alam, chose not to broadcast any footage from the video, focusing instead on UN Security Council condemnation of the killing.
Al-Jazeera's Arabic channel did show brief images from the video but included them in a report on Monday's Paris conference on IS, adding that the UK had been left with no choice but to take part in a coalition following Haines' execution.
In its morning bulletin, Channel 1 carried a snapshot of Haines apparently moments before his execution with the caption "Terror of Da'ish in Iraq", using a pejorative term for IS. Another state channel, Nile News, ran the story only after it had reported on local issues.
The pro-Sunni, Amman-based Baghdad TV showed an image of Haines kneeling beside a masked man holding a knife. The caption underneath read: "As your predecessor Tony Blair did", an apparent reference to the UK's involvement in the 2003 invasion of Iraq.
While state television gave prominent coverage to the latest beheading video, domestic Persian-language channels avoided broadcasting any graphic images. Flagship news bulletins, including state-run news channel IRINN, showed Haines in an orange robe and on his knees while a masked man stood behind him.
English-language Press TV, which is aimed at an international audience, covered the story extensively in its news bulletins. Graphic images from the video were shown alongside footage of another British hostage, Alan Henning. The channel's London correspondent Nargis Moballeghi said "the disturbing videos and the chilling voice have become all too familiar." The channel also showed footage of the beheadings of the American journalists James Foley and Steven Sotloff.
An Arabic hashtag carrying the name of the latest victim, #David_Haines, was used fewer than 500 tweets in the first 12 hours after the video was released. Hashtags used to comment on the first two videos, #ISIS_slays_US_journalist and #Steven_Sotloff, recorded 12,000 and almost 4,000 tweets respectively within a day of their release.
However, many posts promoting the Haines video carried a hashtag based on the title of the IS video, A Message To The Allies Of America. It was used 10,000 times within a day of the video's publication.
BBC Monitoring reports and analyses news from TV, radio, web and print media around the world. For more reports from BBC Monitoring, click here. You can follow BBC Monitoring on Twitter and Facebook