Egypt: Sinai bombing kills six policemen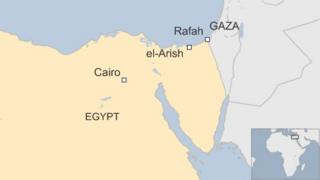 Six Egyptian policemen have been killed by a roadside bomb in the Sinai peninsula, the Egyptian interior ministry says.
Two officers were also hurt in the attack, it said.
The group was travelling in an armoured convoy in northern Sinai.
Militants in Sinai have intensified their attacks on the security forces after the military overthrew President Mohammed Morsi of the Muslim Brotherhood last year.
Tuesday's bombing took place on the road between Rafah, on the border with Gaza, and North Sinai's provincial capital, el-Arish, the interior ministry said.
Responsibility for past attacks has been claimed by an al-Qaeda-linked group, Ansar Beit al-Maqdis.
The group says it is avenging the hundreds of Islamists killed and thousands detained in a crackdown on Mr Morsi's Muslim Brotherhood.