UN brokers agreement to rebuild in Gaza Strip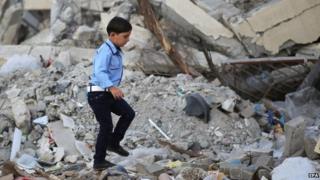 A deal has been agreed by Israeli and Palestinian officials to allow building materials into the Gaza Strip for reconstruction, a top UN official says.
Robert Serry, special co-ordinator for the Middle East peace process, said the Palestinian Authority would play a lead role in the reconstruction effort.
He said it was a step towards the aim of lifting all restrictions on Gaza.
More than 100,000 people were left homeless by the recent 50-day conflict between Israel and militants in Gaza.
The UN says that 2,133 Palestinians were also killed in the fighting, including 1,489 believed to have been civilians. On the Israeli side, 66 soldiers and seven civilians were killed.
'Fragile' ceasefire
Israel launched a major military operation in Gaza on 8 July, with the stated aim of stopping militants firing rockets and mortars at its territory.
Following several short-lived ceasefires, both sides agreed to an open-ended truce on 26 August which has so far held.
The Egyptian-brokered deal called for an indefinite halt to hostilities, the immediate opening of Gaza's crossings with Israel and Egypt, and a widening of the territory's Mediterranean fishing zone.
On Tuesday, Mr Serry briefed the UN Security Council on the situation on the ground in the region and warned that the ceasefire remained "fragile".
"The crisis in Gaza is far from over and the window of opportunity to address critical needs and stabilise the situation is short," he said.
Large areas of Gaza lay in total ruin, with an estimated 18,000 homes destroyed or severely damaged, along with 111 UN installations, many of them schools and hospitals, he added.
Mr Serry announced that his office had brokered an agreement to enable large-scale reconstruction, involving the private sector in Gaza and giving a "lead role" to the Palestinian Authority, "while providing security assurances through UN monitoring that these materials will not be diverted from their entirely civilian purpose".
The Israeli government is worried that they might be used to rebuild tunnels under Gaza's frontier from which attacks have been launched.
Mr Serry added that the UN stood ready to provide "increased technical assistance" to the Palestinian unity government, which was formed in June by the Fatah movement of PA President Mahmoud Abbas and Hamas, the militant Islamist group that dominates Gaza.
Relations between the two factions have deteriorated and it is unclear whether Hamas will be part of the unified Palestinian delegation at the second phase of the ceasefire talks in Cairo.
Mr Serry later told reporters that the new temporary reconstruction mechanism in Gaza represented "an important step, which I hope will give hope to the people in Gaza, and an important step, we hope, towards the full lifting of remaining closures in Gaza".
He hoped it would also increase donor confidence ahead of an international conference in Egypt on 12 October. Palestinian leaders have estimated the cost of reconstruction at $7bn (£4.3bn).
Israel's Defence Minister Moshe Yaalon said on Tuesday that the number of lorries allowed through the Kerem Shalom crossing with Gaza would increase to 380 a day from an average of 250.
The Israeli military also reported that a mortar shell fired from Gaza had landed in southern Israel, the first since the ceasefire came into force.