Iran 'must up IAEA co-operation to ease nuclear sanctions'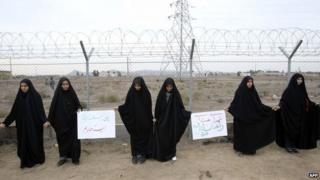 Iran must step up its co-operation with the world's nuclear watchdog if it wants a deal to ease sanctions, the West has told Tehran.
The warning was issued as the US, Britain, France, Germany, Russia and China resumed talks with Iran on its disputed nuclear programme.
Officials say a breakthrough in the negotiations is unlikely.
World powers suspect Iran is seeking a weapon but it insists that it is enriching uranium for peaceful reasons.
It says the enriched uranium will be used in nuclear power stations and for medical purposes.
Last month Iranian President Hassan Rouhani criticised a new move by the US to impose sanctions on 25 Iranian firms and individuals.
At talks in New York on Thursday, the US and the EU voiced their concern at the slow progress made by the International Atomic Energy Agency (IAEA) investigation into Iran's nuclear programme.
A report released by the IAEA in September said Iran had failed to answer questions about what the watchdog called the possible military dimensions of its nuclear ambitions by a 25 August deadline.
'Mere allegations'
The EU said it was disappointed with the "very limited progress" and insisted that Iran and the IAEA must resolve "all outstanding issues" in order to reach a comprehensive settlement.
Iran's envoy, Reza Najafi, dismissed accusations about military uses of his country's nuclear programme as "mere allegations" and said the outstanding issues had not yet been dealt with because of their "complexity".
Mr Najafi said Iran would hold a new meeting with the IAEA to resolve the issues "very soon".
The talks - on the sidelines of the UN General Assembly - are expected to last until at least 26 September.
Correspondents say that expectations that President Barack Obama and President Rouhani will exchange even a handshake - let alone meet one another over the next few days - are not high.
That is a far cry from a year ago when the two leaders came close to ending the decades-long moratorium on face-to-face meetings.
Israeli Intelligence Minister Yuval Steinitz urged the EU - which has worked as an interlocutor for the six powers - not to make a "bad deal" with Iran.
He said that EU foreign policy chief Catherine Ashton may be in a rush to complete a deal before she steps down at the end of this year.
"We are deeply concerned... We feel the negotiations are going in the wrong direction," he said.
The last round of talks aimed at curbing Iran's nuclear programme in exchange for ending sanctions began in February, but Iran and the six countries involved failed to reach a deal by the 20 July deadline.
Britain, China, France, Germany, Russia and the United States make up the P5+1.
Iran and the P5+1 have agreed to extend negotiations until 24 November.