Baghdad blasts hit Shia district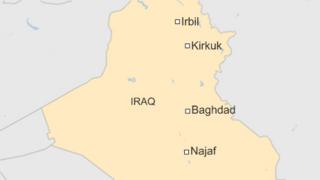 Suicide bombs and mortar fire have killed at least 15 people in a Shia district of Baghdad, Iraqi officials say.
The attacks took place in the northern Kadhimiya area of the capital, the site of a major Shia shrine.
At least 30 people were wounded in the evening assault, police reported.
Earlier attacks in and around the capital killed 15 people, the Associated Press news agency says.
In Kadhimiya, police officers say a suicide bomber rammed an explosives-laden car into a security checkpoint.
Minutes later, mortar shells landed in different parts of the district, hitting houses and a bus station.
There was no immediate claim of responsibility for the attacks, but Sunni militants, including members of the Islamic State (IS) group, often target Iraq's Shia majority, whom they regard as heretics.
IS-led Sunni militants launched a major offensive in June, taking control of large areas north and west of Baghdad from government forces.
Iraqi government forces, Kurdish peshmerga fighters and Shia militias are battling IS and its allies with the support of US air strikes.