Deadly blast hits Hezbollah checkpoint in east Lebanon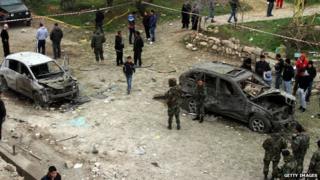 A suicide blast has targeted a checkpoint manned by the Shia Hezbollah group in eastern Lebanon, killing three people, state media says.
The attacker detonated explosives in his vehicle just outside the village of Khraibeh, in the Bekaa Valley.
It is not clear whether the fatalities were Hezbollah fighters or civilians.
It comes amid heightened sectarian tensions in Lebanon as a result of the spill over from the three-year conflict in neighbouring Syria.
It is not yet clear who was behind Saturday's attack, which took place some three miles away from the Syrian border.
Sunni militants have targeted Hezbollah strongholds in Lebanon in the past over the group's support for Syrian President Bashar al-Assad in his battle against mostly Sunni Muslim rebels.
'Soldier executed'
A security official quoted by Reuters said "the Hezbollah fighters at the checkpoint were all killed," with several others who were nearby wounded.
But Hezbollah-run Al-Manar TV has denied that any of its fighters were killed in the blast.
Earlier on Saturday, the government said that a Lebanese soldier had been "executed" by Nusra Front - an al-Qaeda-linked force fighting Mr Assad's government.
The soldier was one of a number of soldiers and policemen captured by Islamist militants from Syria who were fighting Lebanese government forces in the town of Arsal, near the Syrian border, in August.
The group had been demanding the withdrawal of Hezbollah fighters from Syria, as well as the release of Islamist militants from Lebanese prisons.
Some of the hostages are reportedly being held by Nusra Front and others by Islamic State (IS) militants.
IS has already beheaded two other Lebanese soldiers in recent weeks after their demands were not met.
On Saturday, the Lebanese army stepped up its military offensive against Islamists active in Arsal, which is also home to thousands of Syrian refugees.
It followed the killing of two Lebanese soldiers in the town when their vehicle was hit by a rocket-propelled grenade on Friday.
The fighting in Arsal was the most serious incident along the border with Syria since the uprising against President Bashar al-Assad began in 2011.