Yemen: Sanaa calm in wake of peace deal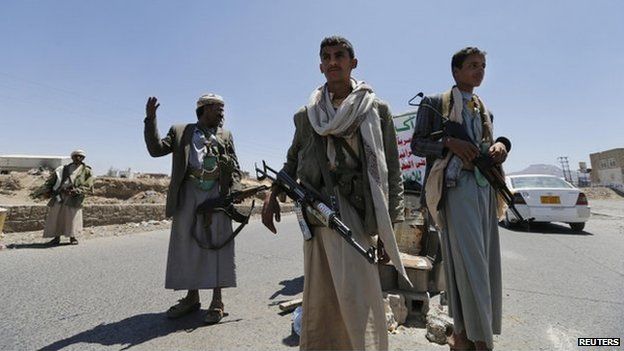 Yemen's capital, Sanaa, is reported to be calm a day after the government and Shia Houthi rebels signed an agreement to end days of fighting.
But the Houthis remain in control of the ministries and government buildings that they seized over the weekend.
They have also reportedly occupied the house of an army general who led several campaigns against the group.
A deal was struck on Sunday, hours after the prime minister quit following fierce clashes.
At least 200 have died in the fighting, health officials said, after dozens more bodies were retrieved from the streets on Monday.
Under the UN-brokered deal, a new government will be formed and the Houthis and southern separatists will nominate a new prime minister within three days.
The Houthis, who are based in the mountainous north of Yemen, have been advancing on the capital in recent weeks and staging mass protests calling for greater rights.
Hundreds of people fled the violence between the rebels and pro-government forces.
Sunday's deal called on the Houthis to hand over all military and government buildings they had seized in the capital. However, reports suggest the rebels remain in control of the buildings, possibly in conjunction with the security forces.
Houthi officials had earlier suggested that the rebels were aligned with elements within the security forces.
The peace deal remains fragile, with the government's call for all groups to withdraw from Sanaa and disarm seeming like wishful thinking for now, according to the BBC Arab Affairs Editor Sebastian Usher.
One Shia militia has reportedly occupied the home of Major General Ali Mohsen al-Ahmar, a powerful army general who is allied to the pro-government Sunni Islamist fighters.
Photos posted online purportedly show Houthis mocking the commander by sitting in his chair at the imposing desk in his office.
Mohammed Basindwa resigned as prime minister on Sunday in order to clear the way for the agreement between the rebels and President Abdrabbuh Mansour Hadi.
President Hadi, who had described the rebel offensive as a "coup attempt", attended the deal-signing ceremony in Sanaa with the Houthi rebels. The deal was brokered by UN envoy Jamal Benomar.
Yemen has remained unstable since anti-government protests in 2011 forced the then-President Ali Abdallah Saleh from office. Mr Basindwa became PM in the government that succeeded Mr Saleh.
The Houthi rebels, who belong to the minority Zaidi Shia community, have staged periodic uprisings since 2004 to win greater autonomy for their northern heartland of Saada province.
They consolidated control over Saada during the 2011 uprising, and since July have inflicted defeats on tribal and militia groups backed by Islah, in neighbouring Amran province.
More recently they have demanded the president reverse a decision to cut fuel subsidies, which President Hadi agreed to do as part of Sunday's deal.
Timeline: Recent key events
29 July - Govt removes fuel subsidies as part of economic reforms; fuel prices nearly double
18 Aug - Houthis set up armed protest camps in Sanaa
31 Aug - Houthi leader calls for campaign of civil disobedience
2 Sept - President agrees to dismiss govt; promises to review subsidy cuts - Houthis reject move
10 Sept - Security forces shoot dead seven Houthis protesters outside cabinet building
18 Sept - Clashes between Houthis and Sunni militias in Sanaa leave 40 dead
21 Sept - Houthis occupy key buildings in Sanaa; PM resigns; deal for new unity govt signed