Islamic State finds fertile ground in Jordan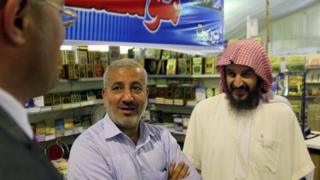 It is unusual to meet jihadists in a public place in Jordan, as they tend to steer clear of security services.
However, I met Abu Mohammed al-Maqdisi, the spiritual leader of the Jordanian Salafist jihadist movement, at a book fair in Amman.
Maqdisi, also known as Isam Mohammad Taher al-Barqawi, was once described by an American think tank as the world's most influential jihadist ideologue.
He is quoted more widely than anyone else in jihadist literature and his writings helped inspire Abu Musab al-Zarqawi, the late leader of al-Qaeda in Iraq (AQI).
Observers have therefore been following what the Palestinian-born Jordanian cleric has been saying about Islamic State (IS), which grew out of AQI and has seized large parts of Iraq and Syria.
'Deviant organisation'
In May, while he was still serving a five-year sentence in prison on suspicion of aiding terrorists and before IS had seized the northern Iraqi city of Mosul, Maqdisi released a statement that condemned the actions of the jihadist group, which has been disavowed by al-Qaeda.
He called it a "deviant organisation" and "an aggressor of the mujahideen", urging IS members in Syria to leave it and join the al-Nusra Front, an al-Qaeda affiliate.
He also denounced the "unlawful" spilling of Muslim blood.
But when I met Maqdisi in the Jordanian capital - three months after his release - he refused to criticise IS because there was now a "crusader campaign against Muslims in preparation".
He was referring to the US-led air strikes that had begun in Iraq and is now being extended to Syria.
Maqdisi added that the dispute between al-Qaeda and IS did "not take them out of the circle of Islamic brotherhood".
Abu Qatada, a Palestinian-Jordanian cleric who was deported from the UK in 2013 and later acquitted of terrorism charges by Jordanian courts, has also criticised IS, describing the group as a "bubble that will end soon" and condemning its "killing and slaughtering" of foreign journalists.
However, a young Jordanian sympathiser of IS told the BBC - on condition of anonymity - that jihadists like himself did not care what the ideologues said.
They always measured opinions according to Islamic law, or Sharia, no matter who expressed them, he explained.
"It is clear that the members of IS are the ones who are committed to Sharia," he added.
The rift between al-Nusra and IS is reflected in the jihadists in Jordan.
While the majority used to be closer to the al-Qaeda affiliate, they are changing positions now in favour of the breakaway.
This has been evident since IS made major advances in Iraq and announced the creation of a caliphate in the areas under its control.
Young supporters
Maqdisi acknowledged that IS had many supporters "especially among the younger generation", and stressed that their number would increase in the wake of the air strikes.
A Jordanian specialist on Islamic groups, Marwan Shahadeh, said he believed there were now more IS supporters in Jordan than al-Nusra supporters.
Mr Shahadeh added that the US military action would play an important role in making the rhetoric of IS more attractive to young jihadist sympathisers.
He also warned that "the collaboration of some political regimes in the region with the American strikes would make them a target to the jihadist groups".
Jordan, in addition to several other Gulf Arab states, participated in or supported the strikes on IS targets in Syria on 23 September, according to the US.
A government spokesman said Jordan wanted to "ensure the stability and security" of its borders. He also said he Jordanian public would understand the need to forestall the jihadist group before it became active in Jordan.
The authorities have already launched a crackdown on IS supporters in the kingdom, reportedly arresting more than 140 since late August.
The relationship between jihadists and the Jordanian government has varied over the years, depending on the prevailing political situation.
Following the 11 September 2001 attacks and the US-led invasion of Iraq, it turned into open confrontation. It seems likely that the air strikes in Syria will trigger another shift.