Yemen: Houthi leader hails 'revolution'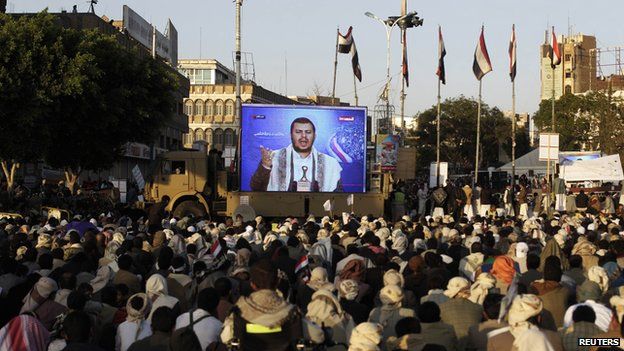 The leader of Yemen's Shia Houthi rebels has described his supporters' takeover of key parts of the capital, Sanaa, as a "successful revolution".
Abdul Malik al-Houthi said his movement had forced the government to give in to the demands of the people.
The Houthis and the government signed a deal on Sunday to end deadly clashes.
Earlier, Yemeni President Abdrabbuh Mansour Hadi denounced the takeover of Sanaa as a conspiracy that could lead to civil war.
At least 200 people are thought to have died in the latest fighting.
Under the UN-brokered deal, a new government will be formed and the Houthis and southern separatists will nominate a new prime minister.
"These great efforts created this great success - victory - for all the people, forcing an answer to popular demands," Mr Houthi said, in a televised speech on Tuesday.
"If it is implemented, this agreement will also change the government, which the people called to fall, to fail, because it stood on an unjust, non-consensual basis," he said.
Mr Houthi also called for partnership with Islah, the main Sunni party, the AFP news agency says. The rebels have been fighting forces loyal to Islah.
Yemen has remained unstable since anti-government protests in 2011 forced the then-President Ali Abdallah Saleh from office.
The rebels, who are based in the mountainous north of Yemen, have been advancing on Sanaa for several weeks, skirmishing with rivals and staging mass protests calling for greater rights.
The Houthis belong to the minority Zaidi Shia community. They have staged periodic uprisings since 2004 to win greater autonomy for their northern heartland of Saada province.
Timeline: Recent key events
29 July - Govt removes fuel subsidies as part of economic reforms; fuel prices nearly double
18 Aug - Houthis set up armed protest camps in Sanaa
31 Aug - Houthi leader calls for campaign of civil disobedience
2 Sept - President agrees to dismiss govt; promises to review subsidy cuts - Houthis reject move
10 Sept - Security forces shoot dead seven Houthis protesters outside cabinet building
18 Sept - Clashes between Houthis and Sunni militias in Sanaa leave 40 dead
21 Sept - Houthis occupy key buildings in Sanaa; PM resigns; deal for new unity govt signed