Raqqa resident: 'We will pay with our blood'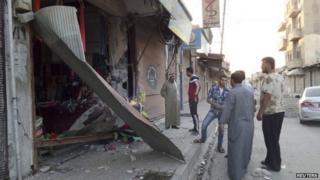 As air strikes by a US-led coalition pound the northern Syrian city of Raqqa - a stronghold of the jihadist group Islamic State (IS) that has become known as the capital of its self-declared caliphate - civilians have been fleeing in fear.
"The people are very afraid, they do not know what will happen tomorrow," explains Abu Ibrahim Raqqawi, a resident who has recently left.
He and a number of friends set up the website Raqqa Is Being Slaughtered Silently, and they have risked their lives to chronicle what has happened to Raqqa since IS took control of the city last year.
Abu Ibrahim says hundreds of people fled after US President Barack Obama announced two weeks ago that he had authorised air strikes on IS targets in Syria.
IS fighters meanwhile moved their wives and children to Raqqa's hilly suburbs, whilst they continued to run the city centre.
While IS did not prevent residents from leaving, many had neither the money nor the means to do so, or were reluctant to leave their homes and possessions behind for the jihadists to enjoy, Abu Ibrahim adds.
Now, however, those remaining have suddenly become a precious commodity for IS fighters.
"They are sleeping inside the flats they are taking from the people. They are making the people human shields," Abu Ibrahim says.
Regular target
For some, the bombs are an all too familiar sight.
Although this is the first time it has been bombed by the US-led coalition, Raqqa has become a regular target for Syrian government aircraft over the past few months.
Abu Ibrahim says a recent government air strike hit the busy Al-Andalous bakery in the city centre, killing more than 50 people and injuring dozens of others. Afterwards, three vans collected the injured IS fighters, while civilians were left to die on the street, he adds.
The fact that hospitals in central Raqqa have been destroyed and those in the suburbs reserved exclusively for IS members has only compounded residents' difficulties.
They recount tales of how they have taken injured friends into their homes to administer the most basic of first aid, and watched helplessly as they died.
Perhaps this is why they welcomed the US air strike on National Hospital in Madan; it was an IS facility and there were reports that a number of fighters died.
'IS wants strikes'
When Abu Ibrahim last spoke to the BBC, just before President Obama's announcement on Syria, he had warned of the dangers of American military action in Syria.
"The people are against IS, but if the USA bombs Raqqa, we will be with IS against the USA," he said.
While Tuesday's strikes on strategic targets like the IS-held Tabqa air base and the jihadist group's headquarters in central Raqqa were welcomed by Abu Ibrahim - albeit with caution - it is not clear that they will be successful in the long term.
"Islamic State want these air strikes," he says, "because they know if it's just air strikes without forces on the ground, they will not fall down, and a lot of fighters will join them to fight the Americans."
Although IS has been engaged in deadly battles with rebel groups in Syria who reject its extremism, some fear that by creating a common enemy the US may yet unite them.
Although Raqqa residents do not think IS can be defeated without ground troops, that also seems to be something to which they are mostly opposed.
"Our city will be destroyed, we will pay with our blood," Abu Ibrahim says. "It will be a very big war, and in big wars, the civilian will pay."
Manveen Rana spoke to Abu Ibrahim Raqqawi for BBC Radio 4's World at One programme