Hosni Mubarak: Verdict delayed in protester killing retrial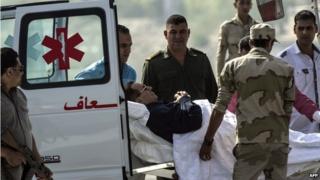 An Egyptian court has postponed a verdict in the retrial of former Egyptian President Hosni Mubarak on charges of corruption and killing protesters during the 2011 uprising.
Mubarak, 86, was in court alongside his sons and a former minister. The verdict has now been set for 29 November.
He was found guilty and sentenced to life in 2012, but the conviction was overturned on technical grounds.
Mubarak ruled Egypt for almost 30 years before being ousted in the uprising.
He stood down after weeks of unrest ended in the deaths of hundreds of protesters across the country.
The current retrial began in April 2013, and has been adjourned several times since.
The presiding judge said he needed more time to finish writing his verdict, after examining 160,000 pages of evidence.
Small groups of Mubarak supporters and relatives of the dead, some of whom were demanding his execution, waited outside the court.
A minor clash erupted when news emerged of the postponement.
But the BBC's Orla Guerin in Cairo says many Egyptians appear to have lost interest in the fate of the former leader who dominated the country for three decades.
Changing evidence
In August, Mubarak was allowed to give a court-room speech broadcast on Egyptian television.
In the speech, he defended his human rights record and said he did his best to fulfil his duties as president.
"I spent my whole life defending Egypt and its sons. I say before God, you and the people that I have spent my life fighting the enemies of the country," he said.
Commentators say that Mubarak could be acquitted, after several witnesses changed their evidence in his favour.
He is already serving a three-year prison sentence for embezzlement of public funds.
In August, a court ordered Mubarak's release from prison and transfer to a military hospital in Cairo, where he is being held.
He was found guilty in 2012 of the charge relating to killing protesters along with former Interior Minister Habib al-Adly, and sentenced to life in prison.
But in January 2013 the Court of Cassation upheld an appeal by the two men against their convictions on technical grounds and ordered a retrial.
His sons Alaa and Gamal are currently serving four-year prison terms for embezzlement of state funds.
Together with their father they were also fined $3m (£1.8m) and ordered to repay the $17.6m they were accused of stealing.