Viewpoints: Experts debate strikes on Islamic State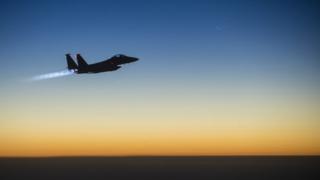 The decision by the US and a coalition of Western and Arab states to launch air strikes on jihadist militants from Islamic State (IS) in Iraq and Syria has provoked controversy.
Here two experts debate whether the military action is justified and can succeed. The exchange took place via email.
Charles Lister
Charles Lister is a visiting fellow at the Brookings Doha Centre. He was formerly head of Middle East and North Africa at IHS Jane's Terrorism and Insurgency Centre, where he focused on sub-state security threats.
Immense instability in Syria and Iraq has allowed at least a dozen Sunni jihadist organisations not only to create roots, but to consolidate themselves within an emerging terrorist safe zone like no other seen in modern history.
Islamic State's advances across Iraq and its expansion in northern and eastern Syria have placed it in control of territory stretching at least 680km (423 miles). Its focus on controlling resources means it now earns between $1.5m and $2m (£920,000-£1.2m) per day. While it had not expressed intent to launch international attacks until 22 September, it was only a matter of time.
Meanwhile al-Qaeda's affiliate, al-Nusra Front, has engrained itself within Syria's revolution. Having done this, it has spent the last nine to 12 months incorporating increasing numbers of al-Qaeda veterans from Afghanistan-Pakistan, who almost certainly harbour hostile international intentions.
Ten other militant groups - with roots in China, Russia, Morocco, Uzbekistan, Saudi Arabia, Libya, Egypt, and Lebanon - have established themselves in Syria.
Thus far, indigenous forces have proven incapable in defeating this reality by themselves. Coalition military action was necessary, but crucially as one component of a multi-faceted strategy in which local actors should lead from the front.
---
Hossein Mousavian
Ambassador Seyed Hossein Mousavian is a research scholar at Princeton University and a former spokesman for Iran's nuclear negotiations. His latest book, Iran and the United States: An Insider's view on the Failed Past and the Road to Peace, was published in May.
The US-led "War on Terror" since 9/11 has weakened America's strategic position, squandered trillions of dollars, cost the lives of tens of thousands and de-legitimised American purpose in the Middle East.
The invasion of Afghanistan in 2001 and Iraq in 2003 by the US and its allies, in addition to their policy of support for the Syrian opposition since 2011, has not resulted in the elimination of terrorist groups. Instead, these actions have turned these parts of the world into a haven for terrorists and extremists.
The current US strategy negates the cultural and social underlying causes for the rise of terrorism in the Middle East. The US decision-makers should realise that IS, al-Qaeda, al-Nusra Front and similar groups are not just a terrorist group but also an ideology coming from the heart of the Wahhabi-Salafi-Hanbali doctrine.
This school of thought enjoys a deal of support amongst Sunni-Arab countries. From their perspective, the US is practically re-launching the post-9/11 "war against Islam". The fact is that the US cannot fight an ideology through air strikes.
Ironically, the Arab allies of the US which are currently participating in the coalition against IS have for decades invested tens of billions of dollars in spreading this extreme ideology across the Muslim world and regrettably these actions continue to this day. The threat of extremism will continue as long as this narrow and intolerant interpretation of Islam continues to be preached.
Furthermore, other major root causes of terrorism and extremism include foreign interference, poverty, unemployment, discrimination, humiliation and injustice - none of which US strategy addresses.
The US-led coalition against IS is neither international nor regionally inclusive. The roster of countries does not include a majority of Washington's Western allies, including its sole Nato partner in the region, Turkey.
The current US strategy in combating IS through air strikes may provide some short-term success, but - as in Afghanistan, Iraq and Libya - ground forces would be vital in fighting against guerrilla and irregular combat forces in Iraq and Syria.
The US and its Arab allies neither have ground forces nor credible local allies to fight on the ground. The embattled Syrian opposition would not be able to take on IS, al-Nusra and the Khorasan Group with the current US air strike strategy. In Iraq, the majority Shia population would refrain from joining the US in the fight against IS.
However, the Shia world - as the only organised, unified and highly motivated power - can serve as an important player in the war on IS. Actually, they are the most powerful natural ally against the terrorists. The fact is that Iran, the Syrian government; Hezbollah and the Kurds (within Kurdistan) are the natural allies in this fight.
Ultimately, if the US genuinely wants to eradicate IS, it must collaborate with Iran - yet another reason why US-Iran engagement would be a major game-changer.
---
Charles Lister
Negative elements of the "War on Terror" are, I imagine, exactly why the US and its allies have chosen to restrict this to air strikes, thus placing the onus of responsibility on local actors.
Moreover, if the "War on Terror" had had such disastrous reputational consequences, would Qatar, Saudi Arabia, Jordan, Bahrain and the UAE have agreed to play a role now? I doubt it. This is about more than history.
Absolutely right, one cannot fight an ideology, but these are real and distinct threats - to local, regional, and international security. Leaving them alone would be naive and neither Syrian President Bashar al-Assad nor former Iraqi Prime Minister Nouri Maliki's government successfully countered them. In fact, Assad virtually ceased fighting IS for 12 months between mid-2013 and mid-2014!
Clearly however, it must be local and crucially, credible actors that genuinely push back these jihadist forces. Air power is unlikely to achieve more than containment.
While a US-Iran rapprochement does indeed have potential benefits, this process takes time and is about much more than IS. Assad has failed to be a unifying figure in Syria and at this point in time, Iran seems unwilling to let go of this long-standing ally.
---
Hossein Mousavian
To uproot IS and similar takfiri terrorist groups and their intolerable ideology, we need comprehensive and realistic short-, medium- and long-term strategies. All major regional and international actors should participate and co-operate.
The emergence and rise of IS was made possible primarily through decades of financial support to introduce the ideology and recently financial and military aid of the Sunni countries and their Western allies, which are participating in the current coalition to curb the Shia and Iran. Now the coalition has realised that IS wants to haunt those Sunni states and will be a major security threat to the West.
Nevertheless, IS has also created an opportunity for Shia and Sunni to combine resources, capabilities and efforts supported by the international community to fight IS and other takfiri terrorist groups.
Peaceful resolution to the Iranian crisis could open the door for broad dialogue and engagement between Iran and the US. However, the US policy of focusing only on the nuclear issue has remained a big strategic mistake.
Iran was ready to attend the 2013 Geneva II talks on Syria but the US and its regional allies refused to allow it.
Even former President Mahmoud Ahmadinejad wanted talks with the US on a variety of issues. In February 2011, Iran invited Marc Grossman, the then US special representative for Afghanistan and Pakistan, to pay an official visit to Iran to discuss Afghanistan but again Washington declined.
The fact is that without Iran's active participation and co-operation, Washington's international coalition against IS will fail for the same reasons it did after the 2001 "War on Terror" against al-Qaeda and after 2011 in Syria.
---
Charles Lister
I agree, of course, that any strategy to counter IS and other groups should involve as broad a multinational coalition as possible and in an ideal world, yes, Iran could play a valuable role. But we must not ignore complicating realities.
While Iran played a pivotally important role in forcing a divisive Maliki aside in Iraq, it has spent huge sums keeping Assad in power, despite his consistent failure to unite his people.
The expansion of Sunni jihadist groups across Syria, Iraq and parts of Lebanon is a regional and international concern, but so too should the build-up of Shia militia. The creation and support for sub-state proxy militant forces is a universally dangerous development, particularly when they are so clearly founded on sectarian lines.
Air strikes represent a necessary short-term reaction to an immediate threat, but they are not a long-term solution. Extremist militancy will always exist, but it thrives on failed politics and divided societies. Syria and Iraq underline this reality as clear as day. Solving these roots is the real challenge lying ahead.
Air strikes and jihadists aside, the conflict in Syria is in strategic stalemate - neither Assad nor the opposition have the capacity to "win" any more.
Speaking with Syrian rebel leaderships of all stripes, there is now a near universal (private) acceptance that attaining peace will mean compromise, including acknowledging some extent of Iranian and Russian interests in a future [post-Assad] Syria.
By simple logic, this does present an opportunity for the US and Iran to work towards building a peaceful future in Syria, but it will take time and bold leadership.
---
Hossein Mousavian
The regional realities have set the stage for an urgent need for a new paradigm shift vis-a-vis the fight against extremism and terrorism. The US and its Arab allies' policy of isolating Iran can no longer be sustained.
Ironically, today the most stable and secure state in the region is Iran, with the foresight and capability to proactively contribute to resolving regional crises. There is no need to assume that only in an ideal world, Iran could play a valuable role - it is already doing so and Tehran's timely assistance to the Baghdad government was the key factor that stopped IS in its tracks.
Iran's exclusion at a recent conference in Paris to build a coalition to defeat IS was a major blunder. Instead, those very participants at the conference - the US and its Arab allies - have provided financial, logistical and military assistance to the Islamic State and enabled it to become the monster it is today.
As Iranian Foreign Minister Mohammad Javad Zarif put it, the conference was a gathering of a "coalition of repenters" trying to rein in the "Frankenstein that's come to haunt its creators".
In a nutshell, the fight against IS leaves no alternative to the American and its allies but to incorporate, co-operate and collaborate with Tehran.
This coalition, once realised, could be the gateway toward establishing a regional security arrangement that addresses the root causes of this phenomena.