Syria conflict: Jihadist rebels abduct Franciscan friar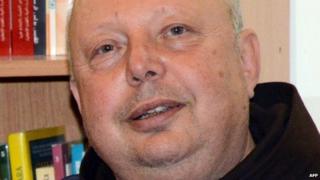 A Roman Catholic priest and about 20 of his parishioners have been abducted by jihadist rebels in north-western Syria.
Father Hanna Jallouf was taken from the convent in the village of Knayeh by members of the al-Qaeda-affiliated al-Nusra Front on Sunday, the Franciscan Custody of the Holy Land said.
Nuns who were inside the convent at the time have taken refuge in nearby homes.
A number of nuns, monks and priests have been kidnapped or killed in Syria since the uprising began in 2011.
Senior Franciscan official Father Pierbattista Pizzaballa, Custos of the Holy Land, told the AFP news agency that Fr Hanna and the other Christians had been accused of being "collaborators" with the government.
"We don't know what to do. We don't know with whom to talk, we're totally unable to get in touch with anyone," he added.
Fr Hanna, a Syrian, has worked at the St Joseph Convent in Knayeh, near Jisr al-Shughour in Idlib province, for 12 years.
Al-Nusra was behind the abduction of a group of Greek Orthodox nuns and their attendants in Maaloula last December.
They were freed unharmed by the group in March as part of a prisoner exchange involving women and children held by the government.
But a month later a Dutch Jesuit priest, Frans van der Lugt, was beaten and shot dead by unidentified gunmen at his monastery in Homs.
Italian Jesuit priest Fr Paolo Dall'Oglio, who spent decades promoting religious dialogue in Syria, was kidnapped in July 2013 and is still missing.
Christians made up about 10% of Syria's population before the conflict in the country erupted.
They were initially cautious and tried to avoid taking sides. However, as the crackdown by security forces intensified and opposition supporters took up arms, they were gradually drawn into the conflict.
Many fear that if the secular government is overthrown, they will be targeted by groups calling for an Islamic state and that Christian communities will be destroyed, as they have been in Iraq since 2003.