Nine killed as al-Qaeda attacks south Yemen town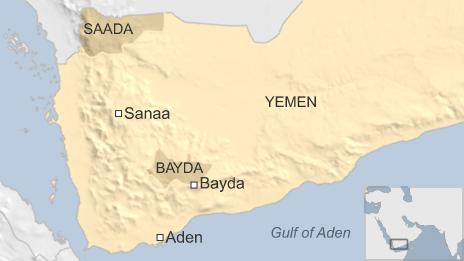 At least nine people have been killed in an attack by al-Qaeda militants on security and government buildings in the south of Yemen, officials say.
The official Saba news agency said car bombs were used in the dawn assault on the town of Bayda, which was repelled.
There were conflicting reports about how many troops and militants had died.
Al-Qaeda's local offshoot reportedly targeted security forces in Bayda because it saw them as sympathetic to Shia rebels who recently overran Sanaa.
The jihadist group has vowed to fight the Shia Houthis in defence of Sunnis.
"Your heads will fly off," it threatened the rebels, alleging that the deadly violence in the capital last month was the "outcome of a Persian plot", a reference to the Houthis' links to regional Shia power Iran.
On Tuesday, the Houthis rejected President Abdrabbuh Mansour Hadi's nominated candidate to take over as prime minister, potentially jeopardising a peace deal.
Mr Hadi said the appointment of Ahmed Awad Bin Mubarak had been agreed by all parties, but a rebel statement said it was not "consensual" and "makes a mockery of Yemen's independence and sovereignty as well as the will of the people".
Senior rebels had previously told the Associated Press that they objected to the choice of Mr Mubarak because he was a close associate of the president.
The 46-year-old businessman-turned-politician led an effort by Yemen's various factions to devise a political roadmap for the transition to democracy launched after President Ali Abdullah Saleh was forced to step down by a popular uprising in 2011.
Under the deal brokered by the UN after the Houthis took control of the capital on 21 September, Mr Hadi agreed to reverse the unpopular fuel subsidy cuts he introduced in July, form a new "technocratic national government", and appoint advisers nominated by the rebels.
In return, the rebels were supposed to withdraw from Sanaa and other northern cities, and hand over their weapons to the authorities within 45 days. However, armed Houthis were still deployed outside government buildings in the capital late on Tuesday.
The Houthis have staged periodic uprisings since 2004 in an effort to win greater autonomy for their northern heartland of Saada province.