Police chief of Iraq's Anbar province killed by bomb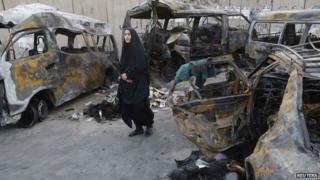 The police chief of Iraq's Anbar province, where Islamic State militants are advancing, has been killed by a roadside bomb, officials say.
Major General Ahmed Saddag was killed when the bomb targeted his convoy near the provincial capital Ramadi.
In a separate attack, 22 Kurdish soldiers died in a triple car bomb attack in the eastern Diyala province.
Islamic State militants have seized large parts of Iraq and Syria in recent months, pushing back Iraqi forces.
A security source told Reuters that the police chief was on patrol inspecting security forces in the Al-Bu Risha area of Ramadi when two roadside bombs went off.
Anbar province is the home of a growing insurgency by Sunni militants, including Islamic State.
At a government compound in Qara Tapah, north-east of Baghdad, three bombs killed 22 Kurds - many of them reported to be veteran fighters signing up for the battle against IS.
A suicide bomber detonated his charge at the entrance to clear the way for two more car bombs that followed.
The mayor of the town, Wahab Ahmed, says the attack was aimed at his office.
Air strikes
On Saturday, a series of car bombs exploded in mainly Shia areas of the Iraqi capital Baghdad, killing at least 38 people.
At least 75 people have been killed in attacks in various Iraqi cities this weekend.
A US-led coalition continues to carry out air strikes against IS targets in Iraq and Syria.
In the besieged Syrian town of Kobane, fighting between IS militants and Kurdish forces continued on Sunday.
US Defence Secretary Chuck Hagel said that US-led air strikes had made progress against the militants, but that they still occupied areas on the town's outskirts.
More than 500 people are reported to have been killed in a month of conflict in and round the town, which borders Turkey.