Iraq: Shia militias 'killing Sunnis in reprisal attacks'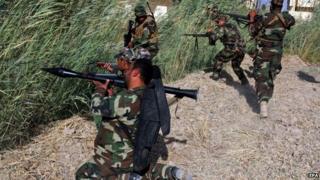 Shia militias in Iraq have kidnapped and killed scores of Sunni civilians in recent months, a report by campaign group Amnesty International has said.
The killings were in apparent revenge for attacks by Islamic State (IS).
Amnesty said the militias had been supported and armed by the Iraqi government and operated with impunity.
Prime Minister Haider al-Abadi, who took office last month, has admitted to previous "excesses" by security forces and vowed to govern for all Iraqis.
Meanwhile, a suicide car bomb blast killed at least 21 people and wounded at least 30 in the capital Baghdad, local police officials said.
Among the dead was prominent Shia MP and former Deputy Interior Minister Ahmed al-Khafaji, a member of Shia Badr party.
The Badr Brigades - a military force linked to the political party - was named by Amnesty as one of the groups involved in sectarian killings.
Police said Mr Khafaji was not the target of the attack, but happened to be driving through the area when it took place, the Associated Press reported.
At least five police officers were among the dead when the bomber drove his car into a checkpoint in the predominantly Shia area of Kadhimiya.
The attack came as the battle for Kobane continued in Syria, and US President Barack Obama and military chiefs from more than 20 countries meeting in Washington to discuss how to stop IS in Iraq and Syria.
Correspondents say it is the first time such high-ranking military officials from so many countries have come together since the US-led coalition was formed last month.
Air strikes have failed to stop IS advancing on the northern Syrian Kurdish town of Kobane - close to the Turkish border - where it has been battling Kurdish forces for several weeks.
Yazidis enslaved
The Iraqi prime minister has not yet commented directly on allegations contained in the Amnesty report but has previously said Iraq faces an "existential" battle against militants from IS, also known as Isis or Isil.
Mr Abadi has also acknowledged, in what is believed to be a reference to Sunnis, that his government must address the "legitimate grievances" of the Iraqi people.
The accusations against Shia militias in Iraq come two days after IS confirmed, in the latest issue of its propaganda magazine Dabiq, that it had captured and enslaved women and children from the Yazidi minority.
Some of the women were subsequently "sold", the magazine said.
The Amnesty report, based on interviews conducted in Iraq in August and September, provides details of what it says were sectarian attacks carried out by militiamen in the cities of Baghdad, Samarra and Kirkuk.
It says scores of unidentified bodies have been found, many still handcuffed and with gunshot wounds to the head, suggesting execution-style killings. Many others who disappeared remain unaccounted for.
'Blind revenge'
Amnesty says that in Samarra, a mainly Sunni city north of Baghdad, it obtained details of more than 170 Sunni men abducted since June.
More than 30 were taken from or near their homes in a single day - 6 June - before being shot dead. Their bodies were dumped nearby.
Correspondents say much of the fighting against IS has been carried out by militias, who were able to recruit thousands of volunteers, rather than the army.
Amnesty says the militias have taken advantage of an "atmosphere of lawlessness" but the Iraqi government "must act now to rein in the militias and establish the rule of law".