Iran nuclear talks to resume as deadline looms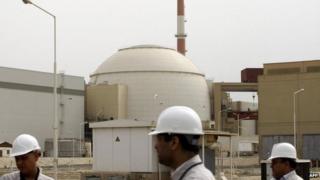 Iranian, US and EU negotiators are due to hold talks in Vienna as the November deadline approaches for a final deal on Iran's nuclear programme.
An interim deal agreed late last year gave Iran some relief from sanctions in return for curbs on nuclear activity.
But talks have since stalled on the extent of uranium enrichment Iran would be allowed and on the timetable for sanctions to be lifted.
World powers suspect Iran of trying to make a nuclear bomb, a claim it denies.
A self-imposed deadline for a final agreement between Iran and six world powers has been set for 24 November.
'Positive steps'
Tuesday's meeting will include Iranian Foreign Minister Mohammad Javad Zarif and EU foreign policy chief Catherine Ashton, with US Secretary of State John Kerry joining on Wednesday.
Iranian President Hassan Rouhani said on Monday that even if no comprehensive deal was struck next month, neither side would walk away.
"Our will is that in 40 days the matter will be resolved but if other things happen and we are not able to solve all the problems, the two camps will find a solution," he said on state television.
"We succeeded in a provisional agreement and we have a great task in reaching a final agreement. This problem has lasted 12 years and it cannot be solved in a few days, though we made positive steps."
Since the election of President Rouhani last year, Iran has promised to further co-operate with the UN nuclear watchdog, the International Atomic Energy Agency.
Days of intensive talks between Iran and the P5+1 group - the US, Britain, China, France and Russia plus Germany - on the sidelines of the UN General Assembly in New York last month failed to make significant progress.
BBC diplomatic correspondent Jonathan Marcus says that, with no common ground in sight, the best that can be hoped for is an extension of the talks.