Islamic State: Syrian Kurdish town of Kobane no longer so isolated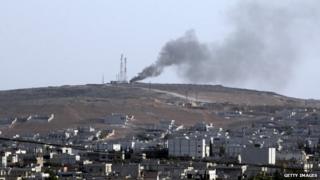 The siege of the Syrian Kurdish enclave of Kobane is now more than a month old. A battle more symbolic than strategic has now claimed around 700 lives, the majority of them fighters loyal to the group calling itself Islamic State.
When I left the nearby Turkish border 10 days ago, the town's collapse seemed only really a matter of time. But circumstances have changed and it's no longer fanciful to suggest that Kobane may survive.
The wider enclave, which includes dozens of villages, is firmly in IS hands.
As many as 200,000 civilians have fled to Turkey and it seems unlikely that they will return in the near future. We have heard reports of scorched earth tactics by IS fighters which seemed designed to make sure there was nothing to return to.
But a combination of sheer determination by Kobane's Kurdish defenders and a huge number of coalition air strikes (more than 135, according to a US Central Command statement on Sunday) may have saved the battered town itself.
The past 24 hours have brought two new significant developments.
On Sunday, the US said it had, for the first time, conducted "multiple air drops" of weapons, ammunition and medical supplies in the vicinity of Kobane.
Centcom said the supplies were provided "by Kurdish authorities in Iraq". It seems likely that Barack Obama told his Turkish counterpart President Recep Tayyip Erdogan of his intention to conduct air drops when the two men spoke on Saturday.
Surprise move
On Monday morning came word of a much more surprising development. Turkey's Foreign Minister, Mevlut Cavusoglu, announced that his country was "assisting" Iraqi Kurdish Peshmerga fighters to cross into Kobane to join the fight.
Officials in Irbil, capital of the Kurdistan region of Iraq, were quoted as saying that Turkey had responded to a request from the Kurdish president, Massoud Barzani, to allow Peshmerga forces to pass through Turkish territory.
For a government that has so far refrained from doing anything to save Kobane, triggering anger among Kurds worldwide, the move represents a significant shift and suggests that Ankara has come under enormous pressure from Washington to take a more active role.
Mr Cavusoglu's brief statement highlighted Turkey's rather conflicted attitude towards the fate of Kobane.
Turkey, he said, "has shown all efforts" to prevent the town from falling.
"We are in full co-operation with the coalition forces," he said, adding that air drops "to our Iraqi Kurdish friends is within this frame".
But he went on to say that the PYD (the political wing of the YPG Kurdish fighters defending Kobane) was a threat to Syria's future.
'Consulted first'
"They aim to have control over a certain part of Syria. Just like ISIS."
As long as it had "these ambitions", Mr Cavasoglu said, the PYD "will not receive the support of the FSA or Turkey".
For the political leadership in Kobane, the arrival of Kurdish fighters from Iraq may be seen as a bit of a mixed blessing.
The Peshmerga represent a rival political organisation. In the complex world of intra-Kurdish politics, straddling several borders, Massoud Barzani's KDP is not a natural ally of the PYD.
Interviewed by the BBC, Kobane's "Defence Minister", Ismet Hesen, indicated the move had been made without his approval.
"If any force would like to come to fight with us here," he said, "forces on the ground doing the fighting here should be consulted first."
Mr Hesen repeated that what the town's defenders want most is heavy weapons, not extra manpower.
But the fact remains that efforts to prevent the fall of Kobane now involve the US-led coalition, Iraq's Kurds and therefore Turkey, indirectly.
The town no longer looks as isolated and desperate as it did just 10 days ago. The three elements seen as vital to prevent its capture by IS - air strikes, resupply and extra manpower - are all now happening or on the way.
It may not be enough. IS has displayed a willingness to commit blood and treasure to this fight. It knows that to give up now would be seen as a major setback.
But the battle for Kobane is no longer quite as one-sided as it was.