Israel's Netanyahu accuses Abbas over Jerusalem car attack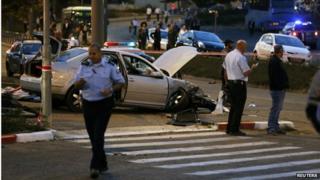 Israeli leader Benjamin Netanyahu has accused the Palestinian president of incitement, after an attack which killed a baby girl in Jerusalem.
Mr Netanyahu said Mahmoud Abbas had provided encouragement for incidents such as the killing of the three-month-old by a Palestinian driver.
The man drove his car into a crowd at a tram stop, injuring eight others. He died hours after being shot by police.
A spokesman said the incident was being treated as a "terrorist attack".
"The driver... is a resident of [the East Jerusalem neighbourhood of] Silwan and has a terrorist background. He served time in jail for terror activity," Micky Rosenfeld was quoted by Reuters news agency as saying.
The driver was identified as 21-year-old Adbel-Rahman Shaloudi, who was shot as he tried to flee the scene on foot.
Shaloudi was the nephew of a leading bomb-maker from Hamas, the Islamist militant group opposed to Israel, who was killed in the West Bank in 1988.
Israel's Channel 2 television said Hamas had claimed responsibility for the Jerusalem attack, although the group has not issued an official statement.
Hamas spokesman Mushir al-Masri praised the attack, calling it "an act of heroism and a natural response to the crimes of the occupation against our people and our holy places", Israeli media reported.
Call for restraint
The baby, Haya Zissel Braun, was thrown 10 to 20 metres (30-65ft) in to the air and landed on her head, her grandfather Shimshon Halpern said.
Jerusalem Mayor Nir Barkat said the girl and her parents were US citizens.
US state department spokeswoman Jen Psaki condemned "in the strongest possible terms... [Wednesday's] terrorist attack in Jerusalem.
"We urge all sides to maintain calm and avoid escalating tensions in the wake of this incident," she said.
In a statement, Prime Minister Netanyahu accused the Palestinian unity government, backed by Mr Abbas' Fatah party and Hamas, of fuelling such attacks.
"This is the way in which Abu Mazen's [Mahmoud Abbas] partners in government operate, the same Abu Mazen who just days ago incited to harm Jews in Jerusalem," he said.
Mr Netanyahu was alluding to comments by Mr Abbas in which he said Jewish "settlers" should be barred "by any means" from entering a disputed holy compound in Jerusalem known to Jews as the Temple Mount and Muslims as Haram al-Sharif. He described Jews visiting the site as a "herds of cattle".
Mr Abbas was speaking after a series of clashes between Palestinians and Israeli police on the compound.
Violence flared in East Jerusalem in the wake of Wednesday's attack, with clashes reported in four districts.
East Jerusalem has experienced months of unrest since a Palestinian teenager was abducted and burned to death in early July.
That incident came two days after the discovery of the bodies of three Israeli teenagers who were abducted and killed in the occupied West Bank in mid-June.
The killings set off an escalating cycle of violence, leading to a 50-day conflict between Israel and Palestinian militants in the Gaza Strip that claimed more than 2,000 lives.