Lebanon tells Syrian refugees 'to return' or go elsewhere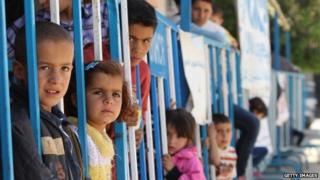 Lebanon cannot accept any more refugees from war-torn Syria, Information Minister Ramzi Jreij has said.
He also urged existing refugees "to return to their countries, or go to other countries".
Although he said those in exceptional circumstances could be accepted, the decision could deny refuge to tens of thousands of Syrians.
Lebanon has taken 1.1 million Syrians despite having a total population of just over four million.
A spokesperson for the United Nations High Commissioner for Refugees (UNHCR) told the BBC that Lebanon's decision "is not a surprise".
"We can understand, we sit here responding to this enormous weight of refugees that is draining this community like nothing we have ever seen before," she added.
Lebanon suggested imposing limits in May when the country started to reach saturation point.
Job competition
In August, they restricted Syrians entering via Lebanon's northern border and extended these restrictions to the eastern border in September.
The UNHCR said already 75% fewer people are seeking refuge with them.
The influx of refugees has created tensions between the Lebanese and Syrian people as both compete for jobs.
Thousands of Syrian children are without education as there are not enough schools.
Over three million people have fled Syria and are mostly staying in neighbouring countries such as Syria, Turkey, Jordan and Lebanon.
Western countries have so far refused to take significant numbers of Syrian refugees.