US urges probe after teenager shot dead in West Bank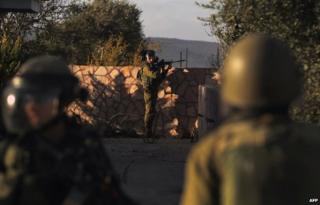 The US state department has called for a "speedy and transparent investigation" into the death of a Palestinian-American teenager killed by Israeli soldiers on Friday.
Police said that Orwa Hammad, 14, was about to throw a petrol bomb near Ramallah in the West Bank.
Tensions have been high since the end of the 50-day conflict in Gaza.
They worsened when a Palestinian drove into a crowd in Jerusalem on Wednesday, killing a three-month-old baby.
The baby was also a US citizen.
"The United States expresses its deepest condolences to the family of a US citizen minor who was killed by the Israeli Defense Forces (IDF) during clashes in Silwad on October 24," state department spokeswoman Jen Psaki said.
US officials would remain "closely engaged with the local authorities, who have the lead on this investigation," she said.
A relative identified the teenager as Orwa Abd al-Wahhab Hammad, who was born in New Orleans and came to the West Bank when he was six, Israeli newspaper Haaretz reported.
He was reported to have been shot in the head during clashes between IDF soldiers and stone-throwing protesters.
Some of the protesters were seen making and throwing Molotov cocktails.
An IDF spokesman initially told Reuters that forces "managed to prevent an attack when they encountered a Palestinian man hurling a Molotov cocktail at them on the main road. They opened fire and confirmed a hit."
The boy's funeral is to take place on Sunday to allow time for his father, who lives in the US, to travel to Ramallah.
The Israeli military said it would investigate the shooting.
Wednesday's car attack was carried out by a Palestinian man from Silwan in East Jerusalem, where tensions are high among Palestinians who are angry over Jewish settlements in the area.
The man drove his car into a crowd at a tram stop in Jerusalem, killing the three-month-old baby and injuring eight other people.
The driver was identified as 21-year-old Adbel-Rahman Shaloudi, who was shot dead by police as he tried to flee the scene on foot.
His funeral is scheduled to be held in Jerusalem late on Saturday evening, Palestinian sources said.
Israeli radio said there were fears the event could turn violent and a limit of 80 mourners had been imposed.
Prime Minister Benjamin Netanyahu has warned that any further attacks will be met with "the harshest response".
Although a fragile ceasefire has been holding since the end of the 50-day conflict between Israel and Palestinians in Gaza, incidents of violence have continued sporadically throughout the West Bank and near holy sites in Jerusalem.