Islamic State: Militants 'pushed back' in Iraq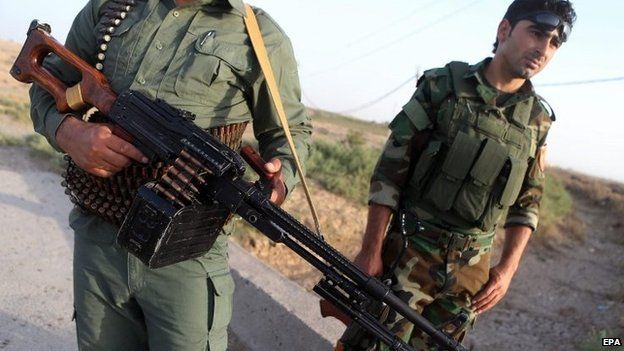 Kurdish forces in northern Iraq say they have recaptured the town of Zumar from Islamic State militants.
Further south, Iraqi security forces are reported to have ejected IS from Jurf al-Sakhar near Baghdad, in a battle to secure a Shia pilgrim route.
Meanwhile the US military said US-led forces made 22 air strikes against IS in Iraq on Friday and Saturday.
IS has seized large swathes of Iraq and Syria since June, prompting air strikes to help ground forces stem the advance.
In Lebanon, six soldiers were killed as troops clashed with Sunni militants thought to be linked to IS in the centre of the second city, Tripoli.
'Significant development'
In Iraq, Kurdish Peshmerga forces said they had forced the militants from the centre of Zumar and some surrounding villages with the help of US air support.
The town is 60km (36 miles) north of the city of Mosul, captured by IS in June.
The Peshmerga were driven from Zumar in August in another IS offensive which prompted the US-led air campaign.
A senior official in the Peshmerga ministry in Iraq's Kurdish region, Lt Gen Jabbar Yawar, told the BBC's Newshour that recapturing Zumar was a significant development and would "facilitate Peshmerga plans to liberate Sinjar".
Islamic State, also known as ISIS, captured the town of Sinjar in August forcing thousands of residents, mainly from the Yazidi sect, to flee.
Analysis: Jim Muir, BBC News, Beirut
Zumar had been a thorn in the flesh of the Iraqi Kurdish Peshmerga since early August, when they lost it to a lightning IS advance and tried repeatedly to win it back.
Although it is not far from Mosul Dam, which the Kurdish forces regained in mid-August, Zumar has eluded recapture all this time.
But Kurdish leaders say that, with the help of intensive US air strikes, they have finally regained firm control of the town and 17 nearby villages.
A major factor slowing the Kurdish advance has been the IS tactic of sowing numerous hidden bombs and booby-traps, which take a heavy toll. Despite their awareness, the Kurds are reported to have lost seven killed in one car bomb explosion near Zumar.
Now that they have secured the rear, the Kurdish forces will be more free to focus on their next big objective - the town of Sinjar, about 50km to the south-west.
Out on a limb along the border with Syria, it will be no easy task. On a recent visit to the front, the Kurdistan President Masoud Barzani said: "It will be tough, but not impossible."
US Central Command said 22 air strikes on Friday and Saturday targeted IS units, buildings, positions and vehicles nearby, in the Mosul dam area, as well as other locations such as Falluja and Baiji.
Another strike destroyed an IS artillery piece near Kobane, on Syria's border with Turkey.
South of Baghdad, Iraqi government forces advanced in Jurf al-Sakhar, a town regarded as key to the security of mainly Shia southern Iraq. Reports said most of it had been captured.
"We have managed to push out Islamic State terrorists from the town of Jurf al-Sakhar today and now we are raising the Iraqi flag over the government offices," provincial governor Sadiq Madloul told Reuters news agency.
Correspondents say the IS presence in the Jurf al-Sakhar area could threaten hundreds and thousands of Shia pilgrims taking part in the festival of Ashura.
The town's capture by Iraqi forces would also give them a springboard to attack IS militants in neighbouring Anbar province.