Egypt activists jailed for three years for 'illegal protest'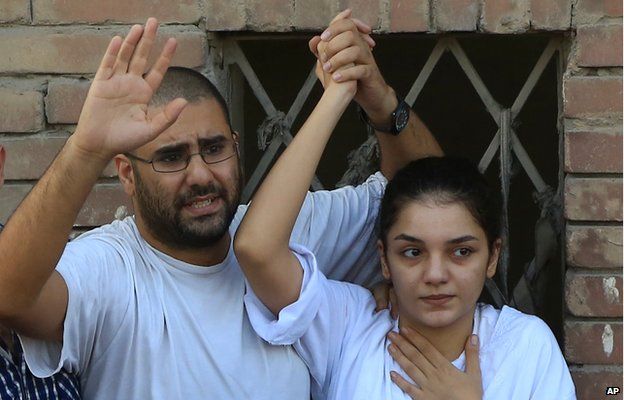 An Egyptian court has sentenced 23 activists to three years in jail for breaching a controversial protest law.
The activists include Yara Sallam and Sanaa Seif - prominent civil rights campaigners.
There have been increasing complaints about restrictions on civil liberties since President Abdul Fattah al-Sisi came to power last year.
The protest law requires special permits from the authorities for any protest involving more than 10 people.
The defendants were accused of holding an illegal demonstration on 21 June to call for the release of detainees and the annulment of the protest law itself.
They are also being fined $1,400 (£870).
Campaigner Sanaa Seif is the daughter of the late Ahmad Seif al-Islam, one of Egypt's leading civil rights lawyers and campaigners who died in August.
Sanna Seif's brother, the prominent blogger Alaa Abdel-Fattah, was released on bail in September while he appeals against a 15-year jail term for violating the same protest law and assaulting a policeman.
Amnesty International says that Ms Sallam, a lawyer Egyptian Initiative for Personal Rights, was not even participating in the protest for which she is being imprisoned.
The law has been widely condemned as repressive, says the BBC's Orla Guerin in Cairo, and the verdict comes at a time when human rights activists in Egypt feel increasingly under threat as restrictions tighten.
Former US President Jimmy Carter recently closed his Cairo election monitoring office, expressing doubts about Egypt's transition to democracy, our correspondent adds.
After large protests led to the military's overthrow of President Mohamed Morsi in 2013, the army began a crackdown on his Islamist supporters and further restrictions followed.