Islamic State conflict: Kurdish fighters arrive in Turkey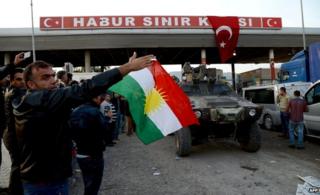 A group of 150 Iraqi Kurdish Peshmerga fighters have arrived in Turkey from where they plan to cross into Syria to battle Islamic State (IS) militants besieging the town of Kobane.
One contingent flew from Iraq to a south-eastern Turkish airport.
Another contingent, carrying weapons including artillery, is travelling separately by land through Turkey.
Turkey agreed to the deployment last week after refusing to allow Turkish Kurds to cross the border to fight.
Thousands of cheering, flag-waving supporters gathered to see off the first batch of Peshmerga forces as they left the Iraqi Kurdish capital of Irbil by plane.
The group of 90-100 fighters landed in the early hours of Wednesday at Sanliurfa airport in south-eastern Turkey.
They were then reported to have left the airport in buses escorted by Turkish security forces.
A few hours later, just after dawn, a convoy of 80 lorries carrying weapons and more fighters crossed by land into south-eastern Turkey through the Habur border crossing.
Turkish police fired into the air to disperse a large crowd of Kurds who had come to welcome their arrival. Some in the crowd threw stones at the police.
The two groups of fighters are expected to meet later on Wednesday in Suruc, some 10 miles (16km) from Kobane, before crossing the border into Syria.
Turkey has come under considerable international pressure to do more to prevent Kobane falling into IS hands but has refused to allow Turkish Kurds from the militant PKK to cross the border.
The PKK (Kurdistan Workers' Party) has fought a decades-long insurgency in Turkey, although a ceasefire was declared last year. The government in Ankara sees the Syrian Kurdish fighters across the border in Kobane as linked to the PKK, which it views as a terrorist organisation.
Turkish Prime Minister Ahmet Davutoglu has rejected claims that not enough was being done to end the jihadist assault.
He told the BBC that Turkey would only take part once the US-led coalition against IS had an "integrated strategy" that included action against the forces of Syrian President Bashar al-Assad.
The Kurdistan Parliament authorised sending 150 Peshmerga to help defend the predominantly Kurdish Syrian town last week. It was unclear why their deployment was delayed.
The Kurdish population in both Iraq and Syria is under significant threat because of the rapid advance by IS.
US state department spokeswoman Jen Psaki said that America would "certainly encourage'' the deployment of Iraqi Peshmerga forces to Kobane.
The battle for Kobane has emerged as a major test of whether the coalition's air campaign can push back IS.
Weeks of air strikes in and around Kobane have allowed Kurdish fighters to prevent it from falling, but clashes continued on Tuesday and a local Kurdish commander said IS still controlled 40% of the town.
More than 800 people have been killed since the jihadist group launched an offensive on Kobane six weeks ago.
The fighting has also forced more than 200,000 people to flee across the Turkish border.
IS has declared the formation of a caliphate in the large swathes of Syria and Iraq it has seized since 2013.
The UN says that millions of Syrian refugees fleeing the conflict have had an "enormous" impact on neighbouring countries in terms of "economics, public services, the social fabric of communities and the welfare of families".
More than three million Syrians have fled their country since the uprising against President Assad began in March 2011, with most of them now sheltering in Lebanon, Jordan, Turkey and Iraq.