Iran MPs reject Rouhani's nominee for science minister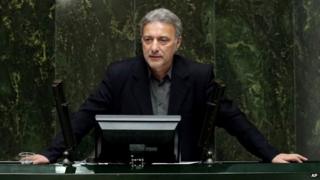 The Iranian parliament has rejected the government's choice for science minister, in a new setback for reformist President Hassan Rouhani.
Lawmakers voted 160 to 79 against the nomination of Mahmoud Nili-Ahmadabadi.
The previous minister was sacked by parliament for what critics claimed were his sympathies to the opposition.
President Rouhani was elected last year on promises of greater openness and engagement with the West, but has faced resistance from hardliners.
Mr Nili-Ahmadabadi was Mr Rouhani's third nominee for the role of science minister.
Members of parliament accused Mr Nili-Ahmadabadi of not distancing himself enough from the mass protests that broke out in 2009 following the disputed re-election of Mr Rouhani's hardline predecessor, Mahmoud Ahmadinejad.
Analysts say the choice is sensitive as the science minister is also responsible for higher education. Universities have been a hotbed of dissent, with students jailed and academics losing their jobs after the 2009 unrest, which the authorities considered a "plot".
The previous science minister, Reza Faraji-Dana, angered conservatives with his decision to allow those involved in the protests to return to campuses.
Earlier this month, President Rouhani, called for greater academic freedom in universities, arguing that restrictions limited innovation.
"We should not be concerned about the expression of diverse views by university professors," he said.