Israel: Palestinian held as Israeli soldier stabbed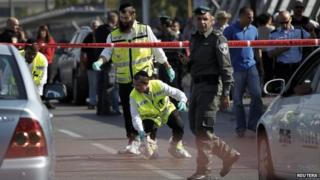 An Israeli soldier has been stabbed and critically wounded in what police said was a "terror attack" in Tel Aviv.
A Palestinian suspect from the West Bank city of Nablus has been arrested.
It comes at a time of heightened tension between Israel and the Palestinians.
At the weekend, Israeli Arabs threw stones at police in mainly Arab towns in Israel after police shot dead a young Arab man, who had attacked them with a knife.
Last week a Palestinian militant killed a policeman and a Jewish teenager after ramming his van into pedestrians at a tram stop in Jerusalem.
A similar car attack by a Palestinian in the same area two weeks earlier killed a woman and a baby.
Israeli media reported that the stabbing on Monday took place at a busy train station.
In response to the incident, Israel's Prime Minister Benjamin Netanyahu said he would use all means available to stop the unrest.
He said he would introduce tough measures to deal with the instigators of such attacks.
On Saturday, Israeli police said they were investigating the fatal shooting of 22-year-old Israeli Arab Khair al-din Hamdan, after video emerged showing an officer opening fire as Mr Hamdan walked away.
In the wake of the incident, in the northern town of Kfar Kana, Arabs held a general strike in towns and villages across Israel and there were clashes between police and Israeli Arab protesters.