Palestinian 'shot dead by Israeli army' in Hebron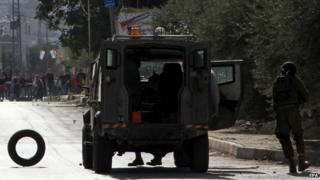 A Palestinian man has been killed in clashes with the Israeli army in the occupied West Bank, Palestinian medical sources say.
They say 22-year-old Imad Jawabreh died after being hit in the chest by bullets near the southern city of Hebron.
The clashes come amid rising tensions between Israel and the Palestinians.
On Monday, an Israeli soldier and an Israeli woman were killed in separate knife attacks in Tel Aviv and near a Jewish settlement in the West Bank.
The killings were the latest in a series of violent incidents over the past few weeks.
Emergency meeting
Tuesday's clashes erupted near Hebron, where about 150 Palestinians were throwing stones and Molotov cocktails at passing vehicles and Israeli soldiers, the Israeli army said.
An army spokeswoman said the troops had used riot dispersal means to try to break up the disturbances, eventually firing at the protesters' lower bodies, hitting one of them, according to the AFP news agency.
Palestinians have blamed the rising tensions on recently announced Israeli plans for more settlements in East Jerusalem and Jewish lobbying for prayer rights at a key holy site in Jerusalem.
Palestinian President Mahmoud Abbas accused Israel of inciting a "religious war" while speaking at a ceremony in Ramallah on Tuesday to mark the 10th anniversary of the death of his predecessor, Yasser Arafat.
In response, Israeli Prime Minister Benjamin Netanyahu said Mr Abbas was "fanning the flames" and urged Israeli Arabs not to get "dragged into incitement".
His comments came in a nationwide address after the Israeli cabinet held an emergency meeting to discuss the crisis.
Meanwhile, Israel's Defence Minister Moshe Yaalon has dismissed speculation that the violence could lead to widespread unrest, Reuters news agency reports.
"We're not seeing masses pouring into the street. We're seeing, in certain places, young people using grassroots terrorism and lone attackers," he told reporters.
At the weekend, Israeli Arabs threw stones at police in mainly Arab towns in Israel after police shot dead a young Arab man who had attacked them with a knife.
That followed two separate attacks by Palestinians in Jerusalem who rammed their vehicles into pedestrians, killing four people.
Israeli Prime Minister Benjamin Netanyahu has vowed to "defeat terrorism" against Israel, saying those citizens who denounce the Jewish state should go and live in the Palestinian territories instead.
Mr Netanyahu has accused Palestinian leader Mahmoud Abbas and the Islamist group Hamas of inciting the violence.