'Survival of the fittest': Young Syrians in Beirut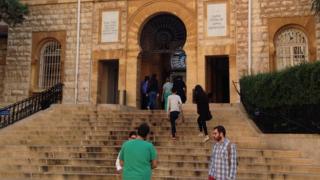 "I'm patriotic. I want to go back and live in Syria one day but people want the war to finish before they make choices."
Rami works as an events manager in Beirut. He wasn't born in Syria but his father lives there. Over lunch in a restaurant just outside the American University in Beirut, he insists that every Syrian would agree with him. They "just disagree on how to resolve the situation."
Syria, he says, used to be one of the most stable countries in the Middle East. Now, people are just trying to survive.
Anas, a 21-year-old psychology student at the nearby university, doesn't share Rami's desire for homecoming but echoes his view of the past.
"If you compare people in Syria three years ago with now, what seemed impossible to live with has just become the new normal." Checkpoints are everywhere, prices are going up, electricity is unreliable.
I asked Anas whether he'd be prepared to return to Syria for military service once he finished his studies. He has friends who are fighting both for and against President Assad. Some have enlisted, others are volunteers. "I feel I could help too but I couldn't put my family in danger and I won't fight."
Rasha also studies psychology but, unlike Anas, hopes she will return home one day to work as a special needs teacher.
We arranged our interview through WhatsApp and she tells me that social media has enabled her to stay in touch with friends back home. Calling Syria is expensive and difficult. She makes calls with Viber and her remaining friends in Syria use WhatsApp to tell her what's going on.
The conversations are "often" disturbing, she says. "But I don't like to tell my parents as it would only worry them when they want me to focus on my studies."
Her parents have a place in Beirut. They shuttle back and forth from Damascus, spending up to six hours on a single journey when the traffic is against them. Rasha knows that she and her family are more fortunate than some.
Although her father, a car dealer, has little work left in Damascus she has an education, a $500 a month allowance from her parents and a place to live in Beirut.
If only she could enjoy being in Lebanon. Rasha has friends at university but says she often feels hostility from the Lebanese. I ask her whether this may have something to do with the ever growing number of Syrian refugees in the country. "Yes," she replies, "they probably think we're taking all their jobs."
Nadia - or Nano as everyone calls her - is trying to become a singer here in Beirut. She's from Homs and trained as an architect. All her family has now fled and she doesn't want to go home. But she still knows people there.
She says some women she knows have turned to Facebook to find a partner overseas and a ticket out of Syria.
Back in the restaurant, Rami is adamant that peace will one day return to Syria. But he thinks there's a real danger it could spread to become a much wider regional conflict before this happens.
"Realistically, war will take five to 10 years - and that's long enough", he says. Can people survive another 10 years of war? "It's survival of the fittest", he replies.
Rami could be right but I can't help thinking I may have just met three young Syrians who will have the good fortune and opportunity to survive.