Syria conflict: Seeking refuge in art and animation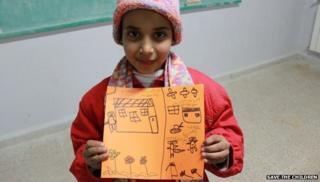 There's precious little colour in the lives of most Syrian refugees but one project, run by Save The Children, is trying to put that right.
Marion McKeone is communications director for Save The Children in Lebanon. "We've had children who want to know where Hollywood is now", she tells me.
The project encourages children and teenagers to explore their past life in Syria, their subsequent displacement and their journey to Lebanon by drawing pictures and making animated films.
They use computers and learn basic animation skills in a two week workshop, sponsored by the charity.
The process is intensive but also "exciting", says Marion, as they have a rare opportunity to use their imagination without fear. She concedes that the course can be challenging, as they are forced to confront all the death and destruction they experienced back home in their art, but they are counselled throughout the process.
Treating trauma
I met one group of young Syrian teenagers at the Chiyih youth centre in Beirut. The centre was only opened three weeks ago and aims to provide basic training in English, information technology and life skills for Syrian and Lebanese young people who lack access to education and have experienced upheaval and trauma as a result of conflict.
The young people I met were very happy to draw for me and to talk openly about their lives. Many of them had lost family and friends and been displaced several times on their journey from Syria - forced to leave informal settlements and makeshift homes (barns and abandoned buildings) to find more secure refuge in the city.
Some had experienced harassment and bullying too. Many of them feel isolated, helpless and angry at what had happened to them and their families. Few of them could imagine returning home.
One 13 year-old girl, Rama (not her real name) talked me through a picture of her home and neighbourhood. She came from a big family - six girls and three boys. Her drawing showed the family home she lived in from aged one to nine. She also drew her school, a garden and football pitch her brothers used to play on.
The family lived with constant shelling for a year before they could stand it no longer. They've been in Lebanon for two and a half years now and she won't be going home soon.
It's impossible to quantify how much of a difference a new project like this can make to the hundreds of thousands of young Syrian refugees in Lebanon.
Marion tells me a recent report her charity had commissioned found that 40% of Syrian refugees had contemplated suicide. Many young Syrians will not have the chance to explore their pasts with art and animation.
But, for those who do come through the door, these sessions at least offer the chance for some self-expression.