Jerusalem tension: John Kerry brokers Israel-Jordan talks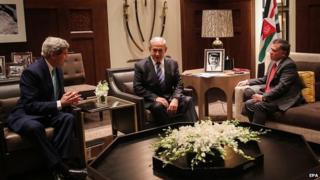 The US secretary of state says steps have been agreed at talks in Jordan to lower tensions between Israelis and Palestinians in Jerusalem.
John Kerry spoke after meeting Israeli Prime Minister Benjamin Netanyahu and Jordan's King Abdullah II.
A dispute over access for prayers at the al-Haram al-Sharif/Temple Mount compound, the holiest site in Jerusalem, has led to weeks of unrest.
Mr Kerry said "firm commitments" were made to maintain the status quo.
He said Israel and Jordan had agreed to take steps to "de-escalate the situation" in Jerusalem and to "restore confidence".
Jordan is the custodian of the compound, which includes the Dome of the Rock and the al-Aqsa Mosque.
The compound - known to Jews as the Temple Mount and to Muslims as al-Haram al-Sharif - is the holiest site in Judaism, while the al-Aqsa Mosque is the third holiest site in Islam.
"We are not going to lay out each practical step, it is more important they be done in a quiet and effective way," Mr Kerry said at a news conference in Amman, alongside Jordanian Foreign Minister Nasser Judeh.
"It is clear to me that they are serious about working on the effort to create [a] de-escalation and to take steps to instil confidence that the status quo will be upheld," he added.
Orthodox Jewish campaigners in Israel are challenging the long-standing ban on Jews praying at the compound. As tensions have risen, restrictions have also been placed on Muslim men hoping to enter the compound to pray.
Mr Netanyahu has promised not to change the status quo and has accused Palestinians of fomenting violence.
Last week, Jordan recalled its ambassador to Israel in protest, the first time it had done so since the two countries signed a peace treaty in 1994.
Palestinians were not represented at Thursday's talks but Mr Kerry said he had pressed Palestinian President Mahmoud Abbas at an earlier meeting in Amman.
"President Abbas and I this morning discussed constructive steps, real steps, not rhetoric, that people can take in order to de-escalate the situation," Mr Kerry said.
"He made it clear that he will do everything possible to restore calm and to prevent the incitement of violence."
Last month, a spokesman for Mr Abbas described the closure of the compound as a "declaration of war".
Unrest in Jerusalem and the West Bank has also been stoked by Israeli moves to increase settlement activity in Jerusalem's eastern sector, occupied by Israel since 1967.
Mr Kerry has been trying to broker fresh peace talks between Israel and the Palestinians since the last round of negotiations broke down earlier this year.